Bryant Guffey, MBA '10 (left) and George K. Lewis Jr., MS '08, PhD '12, co-founders, ZetrOZ
Wowing skeptics with miniature therapeutics
---
Wowing skeptics with miniature therapeutics
by Irene Kim
---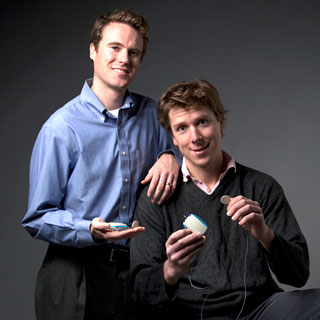 In 2009, Bryant Guffey and George K. Lewis Jr. cofounded ZetrOZ out of Lewis's garage, based on Lewis' inventions in ultrasonic technology. In 2011, after expanding to a 12'x12' office room and a closet, the team launched its first product into the veterinary rehabilitation market: a pocket-sized ultrasonic device. Quickly adopted by veterinarians and riders in competitive horse-racing, the device even traveled with the U.S. Equestrian team to the 2012 Olympic Summer Games in London. Worn over horses' joints and tendons, it produces ultrasonic waves that increase circulation and nutrient transport through tissue. The end effect is reduced inflammation and faster healing of tears, lesions, and fractures.
Now, more than 200 ZetrOZ systems are being used for veterinary rehabilitation, and the company boasts three executives on the management team, three full-time engineers, and a national sales and distribution network.
ZetrOZ products are based on Lewis' innovative designs in ultrasonics on a miniature scale. Ironically, it was this very novelty that caused the biggest challenge in the beginning. "Few people believed that a couple of young guys starting a company out of school could really build medical devices to rival those of the much larger, established companies," says Guffey.
But ZetrOZ's track record with veterinary applications has attracted serious attention. The company is currently seeking U.S. FDA approval for a human version of the device to treat arthritis and tendonitis, and to speed post-operative recovery. "We're now closing our Series-A round of financing to allow us to scale the rehab product line into the human world," says Guffey. ZetrOZ has also been engaged by larger companies to integrate its novel technology into pill-sized ultrasound systems and even a new system to treat deep vein thrombosis.
ZetrOZ has received invaluable help from the Cornell Center for Technology Enterprise and Commercialization, the Cornell athletic department, and from Cornell and Johnson alumni. "The Johnson and Cornell alumni are some of the best in the world," says Guffey. "I have rarely run into an alumnus, even the busiest, who wouldn't at least take a call or answer an email."