Setting The Parameters
---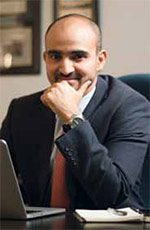 In 2011, Faizan S. Syed, MBA '09, left investment banking and returned to his native Pakistan to start an herbal products business. Before he could, his family asked him to manage the medical TV channel they started in 2009. Now, as head of Pakistan's only healthand- lifestyle channel, Syed has seen his staff grow threefold to 250 and revenues multiply by 16. Health Television's (HTV) viewer approval rating stands at 75 percent, versus 21 percent for peers. Google and Dailymotion monetize its website. HTV has been covered by BBC, AFP, and Associated Press. And Syed is having the time of his life.
HTV's original charter was strictly medical content, but advertisers weren't interested. So, Syed redefined HTV as an infotainment lifestyle channel. "It's more appealing to consumers, who get information-based content as entertainment, and advertisers have a bigger audience they can monetize."
Syed enjoyed the challenges of pioneering new traditions in Pakistan's nascent TV space. For example, when they couldn't find a standard format for program end credits, his team researched and created its own. "We're setting the parameters," he says.
And Syed discovered his talent for realizing others' strengths. "Media is a new industry in Pakistan, making it hard to find trained resources. I therefore uncovered what my employees were passionate about and placed them in positions accordingly," he says. When an associate producer kept showing up late because he was composing music late at night, Syed made him HTV's lead music producer.
Syed credits Clint Sidle, director of the Roy H. Park Leadership Fellows Program, with teaching him the servant leader model, "where a leader focuses on helping others and empowering them to be the best they can be. The Park Fellowship helps you figure out who you are and what drives you," Syed says. "When you're clear about that, it's easy to build a team to complement you."