Startup Snapshots: Fun and games at doggy daycare
Kimberly Jones Gilliam '98 (CALS), MBA '02, Frolick Dogs
---
Kimberly Jones Gilliam '98 (CALS), MBA '02, Frolick Dogs
by Dick Anderson
---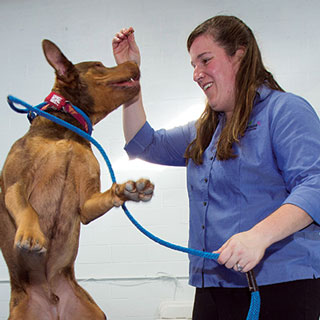 When the couple met in 2006, Kimberly Jones was director of membership and sales operations with the U.S. Chamber of Commerce, and Kevin Gilliam was a trainer at the Olde Towne School for Dogs in Alexandria, Va. Kim and Kevin got married in 2010, and it wasn't long before their professional interests came together — "the business side and the dog side," she says.
Kevin had an idea for a dog gym facility — a sports club for canines — and Kim helped him refine his business plan. "I grew up with dogs, but this was his passion," she says. "The more he floated the idea around, I really got the big picture."
After Frolick Dogs opened its doors in June 2014, "we spent the first couple of weeks waiting for people to come in," she says. Kevin's Olde Towne School clientele "sent referrals like crazy," and a barrage of press (from The Washington Post to "The Today Show") paid dividends. Now, "We're at capacity for our day boarding. We're turning away business, which is really hard." Plans are afoot for a second area location, Kim says, and they've fielded franchising inquiries from California to Dubai.
Gilliam completed her undergraduate degree in agricultural business management and marketing and applied to business school "on a lark," the Delaware native recalls. "I think I was the youngest person in my class at the Johnson School."
When Kevin was sidelined for six months by spinal injuries last year, Kim not only had to run their nascent business, but care for daughter Cameron (now 4). Kevin's brother, Kyle, moved up from Florida to help out — and, to Kim's amazement, Frolick Dogs' human clientele pitched in as well: "They would volunteer on Saturdays to come in and clean. This is more than just a business. We've created a community."