Anindo Dutta, MBA '05 (E)
Global outsourcing with a human touch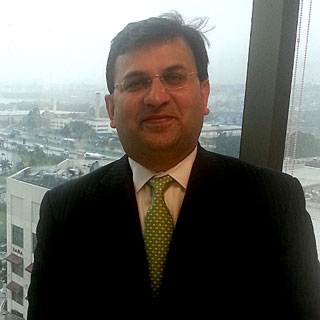 According to Anindo Dutta, outsourcing "comes in two different flavors": Information technology and application outsourcing (the most commonly known), and business processing outsourcing (BPO) — his area of expertise. As vice president-Americas BPO at Hewlett-Packard (HP), Dutta helps provide corporate clients with domestic and offshore solutions devoted to handling traditional BPO services such as finance, human resources, and accounting — as well as increasingly popular "big data solutions" that help companies maximize their operational processes.
Clearly, he is good at it: Dutta was recognized as one of the Outstanding 50 Asian Americans in Business 2013 by the Asian American Business Develop Center (AABDC) in June of this year.
The goal with every client, Dutta says, is "to figure out what their business challenges are and find the solution that best tackles that." An engineering major as an undergraduate, Dutta has a strong background in both technology and business. This unique skill set, he says, allows him to serve as a bridge between clients looking to increase market share or productivity and HP's technology resources — everything from "the pure insight from our PhD-level analytics teams" to "our tremendous amount of tools and software."
Born in India and raised in the U.S., Dutta had worked in Europe, Asia-Pacific, and Latin America before entering Cornell's Executive MBA program. However, he credits his experience on the global business project he did in Costa Rica as a Johnson student for prompting him to think about what emerging growth markets like India, Brazil, and China could offer the rest of the world.
Jokingly self-described as "your typical global road warrior," Dutta travels for business between a quarter and half the year, going as far north as Nova Scotia and as far south as Argentina. Though the focus of his work is connecting employers and employees thousands of miles apart, Dutta says that when it comes to establishing and maintaining relationships with customers and vendors in his region, there's no substitute for having "feet on the ground." This is especially true, he says, in countries like India, Japan, Brazil, and Mexico, where business relationships are based more on personal connections than corporate contracts.
"It's the difference between saying, 'Hey, I've got a plane to catch, sign here' — and actually getting to know a person, building trust, and creating positive business outcomes."