Tiffany Washington, MBA '12 (E)
The Business of Reaching Kids, Changing Lives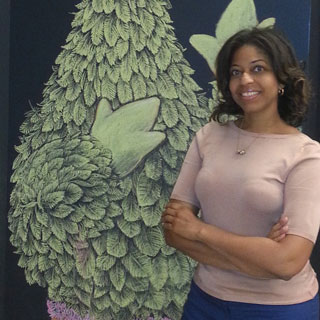 "In a way," says Tiffany Washington, "I grew up on Sesame Street twice." Like millions of other kids, Washington credits the beloved television show for helping her learn her numbers and AB Cs. But, in her case, the company brought Big Bird to millions of children around the world is also responsible for her growth as a business professional: Washington has spent more than a decade — her entire career, in fact — in a variety of roles at Sesame Workshop, Sesame Street's nonprofit educational organization.
Today, as a director in the Project Finance Division, Washington helps facilitate the long-range planning and implementation of a wide range of domestic and international initiatives. Especially with projects in emerging markets, Washington says, there are a fair number of little emergencies to deal with. But, she says, "fixing things is the part I like best."
In keeping with the Sesame Workshop's goal to "reach the kids wherever they are," as their CEO and President, H. Melvin Mig, often puts it, the projects both span the globe and provide resources to families in a variety of media. Recent offerings include videos and literature for children in American military families dealing with separation from their parents and death of a loved one, radio awareness messages about malaria in Tanzania, and educational TV as well as educational mobile apps for educators and caregivers in Bangladesh. For a new project sponsored by the Gates Foundation, the Workshop is creating a multimedia hygiene and sanitation initiative in conjunction with Sesame Workshop India, Sesame Workshop Bangladesh, and partners in Nigeria.
In addition to reaching kids where they are, the Workshop seeks to reach them via the technology they use. "We tend to offer at least TV and community outreach in most of our emerging markets, and sometimes radio," says Washington. If it's a known quantity that a high percentage of people in a particular country have mobile phones, "we figure out how to start sending text messages to educators and parents, or create and distribute teacher training videos."
Working at Sesame Workshop, Washington says, "is like being part of a fun and loving family. It's a clichÉ, but it's true." That spirit of playful camaraderie is obvious as soon as visitors enter the offices in midtown Manhattan. Framed pictures of classic Sesame Street Muppet friends line the lobby walls; office TV monitors broadcast live footage from the show's Astoria set; plush characters garnish every workstation. And at her desk, Washington fits right in. Though she walks in every morning in high heels, she prefers to do her work wearing something more comfortable — her fuzzy pink Sesame Street Muppet slippers.