Ramnath Subramanian, MBA '07
From Wall Street Banker to a Hindu Monk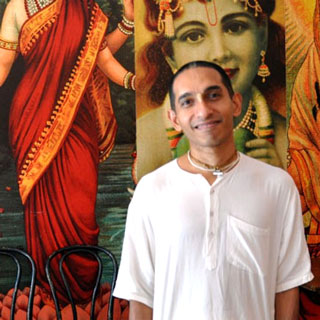 In the 18 months Ramnath Subramanian worked as an associate at Bank of America, he would leave his office on Wall Street at the end of each day, arrive home at a monastery in the East Village, eat a simple meal, and then retire on a yoga mat in a room he shared with 13 other Hindu monks. The next morning, he would awaken at 4 a.m. to meditate for two hours before starting another 15-hour day as an investment banker.
His dual life finally came to an end in the fall of 2008, when Subramanian decided he could not reconcile his banking career with his monastic life. His last project at Bank of America, ironically, was to create a merger and acquisition strategy for Playboy magazine, and his three-part recommendation had earned him praise from his boss. Yet at the same time, Subramanian, a native of Mumbai, was being pulled in another direction that led him to quit his job.
"There was a calling that was very strong in terms of what I wanted to do with my life," he says. "I wanted to dedicate myself to doing good work. It was not that I wanted to quit society and give up all the skills I had learned in consulting and the Johnson School. I wanted to engage them in a place where I truly felt connected to my heart."
Subramanian, whose monastic name is Rasanath Dasa, is now executive director of a non-profit organization that is transforming the six-story building housing the monastery into a cultural center with a vegetarian cafÉ planned for the first floor. While devoting himself to meditating, praying and teaching classes on Hindu scripture, Subramanian has remained connected to the financial world, as a regular speaker on mindfulness and decision-making at retreats for business executives.
Last October, he was featured in The Wall Street Journal after he led protesters at Occupy Wall Street in a meditation session in Zuccotti Park. "It was not to support the protesters," he says. "It was to raise the consciousness of the way that we live. Wall Street is just one symptom of a broader problem. It disconnects us from our true essence of who we are."