The consultant who wore many hats
Jamel Morris MBA '05 helps the federal government tackle big, unusual projects.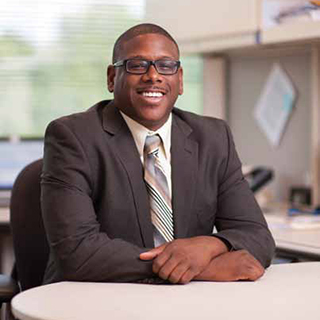 When the federal government needs help tackling big, unusual projects,they often partner with MITRE, a nonprofit organization that operates anumber of federally funded research and development centers out ofMcLean, Va. Jamel Morris, MBA '05, is one MITRE leader who has helpedshepherd a number of the organization's highest profile projects tocompletion in recent years.
A senior manager with MITRE's enterprise business strategy division,Morris joined the organization in 2010 and was promptly put to workhelping the IRS develop the information-gathering processes and taxforms necessary to support its compliance with the (then) newly mintedAffordable Care Act. Upon that project's conclusion in 2012, Morris wastapped to help the FDA create a disaster recovery plan that would ensureboth the safety of its data and the seamless continuation of its operationsin the event of a catastrophe. Now, Morris is finishing up a projectfor Health & Human Services related to health-care payment reform.
Last spring, in recognition of his pivotal role in these efforts, Morriswas awarded a Modern Day Technology Leader Award at the 2015 BlackEngineer of the Year Awards Science, Technology, Engineering, and MathGlobal Competitiveness Conference.
An undergraduate mechanical engineering major, Morris says both his science- and business-based education has equipped him with theperfect toolkit for wearing many different consultant hats at MITRE. "Engineering taught me how to solve complicated problems," he says,"and my MBA taught me how to define problems €¦ and acknowledge that sometimes there are multiple answers to a problem."
Formerly a consultant for Deloitte, Morris says he also takes great satisfaction in knowing that the problems he works to solve — or thesystems he works to fine-tune — are in service of more than increasing profits. "It's a completely different mindset than in the private sector,"he says. "Ultimately, [at MITRE] you know that everything you're working on really is meant for the public good."
On deck next for Morris is an exciting new project for the IRS — and Morris welcomes switching gears. "I love that there's constant change,"he says. "At first, for each project, you feel fear and doubt. But then you do your research and realize you have the skill set to get it done. I find that exciting."
But first there's an even more pressing logistical challenge ahead of him, one he's doing pro bono: moving his new wife, Janine, still basedin Switzerland, to his home in Maryland.
"I can't wait," he says.