Confronting Challenges of Disparities in Health Care
Melva Covington, MBA '04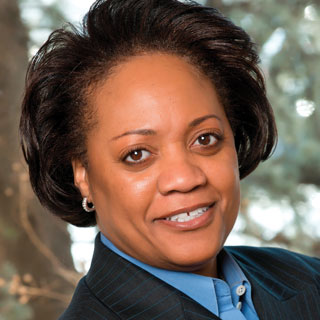 Melva Covington fell into health care unintentionally. After graduating with a degree in politics and economics from The Catholic University of America, Covington aspired to earn an MBA. However, with no professional work experience, her first stop was selling vacuum cleaners door-to-door in Washington, D.C.
Then her undergraduate psychology professor called, asking her to join a project aimed at helping at-risk pregnant women in Washington, which in the 1980s had the highest infant mortality rate in the country. Covington found that providing education and health services to these women not only improved health outcomes for many, but also empowered them in their community. "That was what really inspired me to switch from the MBA to MPH," she says.
After earning a master's of public health and later a PhD, Covington worked in health services for a decade. She took a course in Strategic Thinking at Johnson in 2002, and a month later she enrolled in the Executive MBA program. She continues to focus on integrating health, business, and community engagement to confront challenges that guided her when she first canvassed the neighborhoods in Washington, D.C. — reducing population-based disparities in health outcomes.
At Sanofi in Bridgewater, N.J., Covington is senior director and field strategy lead for global diabetes and cardiovascular disease. She has led a research initiative to improve patient recruitment in clinical trials with a strategic focus on enrolling more people of color and women in research. "The numbers of African Americans, Latinos, Asians, and women in clinical trials do not match the proportion affected with a condition in real life. We have to change that," she says. Her work landed her Major Breakthrough Awards at Sanofi in 2014 and 2015.
Ordained as a church elder in May 2015, Covington began serving this spring as interim co-pastor of the Abundant Life Bible Church in Hyattsville, Md., a church founded by her late mother more than ten years ago. Covington lives in Union, N.J., and travels more than 150 miles to preach on Sunday mornings twice a month. She also leads a 6:30 a.m. prayer conference call each week. "This service is the greatest honor of my life," she says. "It's quite a trek but well worth it."