Embracing a Passion for Travel
Rebecca Robinson '07, MBA '15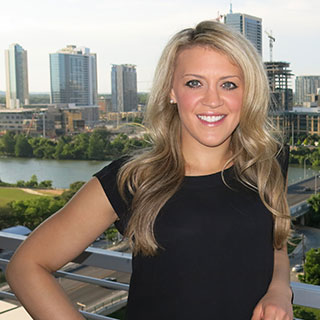 You want to book a romantic getaway in a five-star hotel in the Caribbean. After logging onto a hotel booking website, you enter the number of travelers, and suddenly photos of couples sipping wine at a candlelit dinner, enjoying a massage in a spa, or sunbathing on a white sand beach appear on the screen.
The software directing you to a hotel geared for couples was created by WayBlazer, a startup that hopes to transform the online travel industry by using artificial intelligence to customize the booking process. "As far as we can tell, we're the only player that has this type of technology and is licensing it in the industry," says Rebecca Robinson, who joined the Austin firm as its marketing director last summer.
For Robinson, the move was a way to combine her passion for travel and for startups. At Johnson, she and classmate Derek Mayer, MBA '15, were developing a company to provide hospitality pricing and operation tools to people who rent out their homes on websites, until Robinson learned just after graduation that Airbnb was launching a similar product.
Within two months, Robinson landed at WayBlazer. She had contacted its CEO, Felix Laboy '86 (Hotel), a former executive-in-residence who taught a class she took at the School of Hotel Administration (SHA) when pursuing her MBA. Robinson, who earned her bachelor's degree from SHA, had already worked at Expedia for five years.
In her new position, Robinson is on the front lines of bringing this new technology to the hospitality industry through marketing, PR, and sales. In the two years since its launch, WayBlazer has begun working with four companies, including The Leading Hotels of the World, a "collection of uncommon luxury hotels," and Hilton Hotels.
A native of Ithaca, Robinson says she enjoys living in Austin and has been able to keep up with some of her favorite hobbies — cycling and ice hockey — while becoming an expert in local cuisine and lake surfing. "It's such a friendly place, and I've met smart and driven people here," she says. "Austin has a very strong tech community, and it's growing like crazy."