Sense and Sensibility in a Master Dealmaker
Luis Carlos Sarmiento Jr. MBA 85′, CEO of Grupo Aval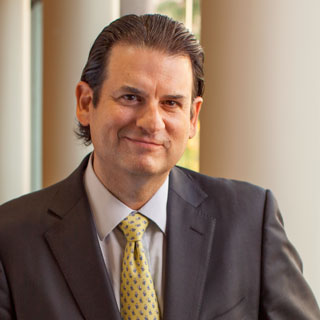 Luis Carlos Sarmiento Jr., the CEO of Grupo Aval, Colombia's largest financial services holding company, likes nothing more than making deals.
Evidence suggests that he is good at it. The biggest of the 16 transactions he directed over the last decade, Aval's $1.9 billion purchase of Costa Rica-based BAC Credomatic from GE Capital in 2010, produced $286 million in net income last year, a spectacular return.
To pull it off, Sarmiento stared down a competing bid from the much larger Canada-based Scotiabank and skeptical representatives of seller GE Capital. To prevail, he offered $1.9 billion, all cash — nearly a quarter of Aval's equity — against the Canadian bank's cash and stock offer.
Early negotiations were not propitious. GE's representatives asked Sarmiento questions that reflected their "doubts about whether Aval was the better prospect to buy the bank," he says. But drawing from his years working in corporate America and Wall Street, Sarmiento convincingly made his case with language and figures the sellers understood.
"I wasn't intimidated, and I was able to persuade them I could deliver what they were looking for in us," says Sarmiento, a Johnson Advisory Council member who was honored with Johnson's 2013 Distinguished Latino Alumni Award for his dedicated service, outstanding leadership, and exemplary commitment to the school. "The dynamics of the negotiations seemed to change after that."
The deal-making pace has increased in recent years as Sarmiento's father, Aval founder and chairman Luis Carlos Sarmiento Sr., cedes to his son more and more responsibility for the $150 billionassets- under-management company, a financial behemoth based in BogotÁ that controls not just four banks but Colombia's largest gas company, a hotel chain, toll roads, and even a rubber tree plantation.
Now 80, Sarmiento Sr. still works a 70-hour work week, which helps explain how, according to Forbes magazine, he has become one of the world's richest men with a net worth of $13.8 billion.
Since the BAC Credomatic deal, Sarmiento has sealed other big deals, including the $541 million purchase earlier this year of Spanish banking giant BBVA's Colombia pension unit, which will be merged with Aval's Porvenir, Colombia's largest pension administrator. In June, he announced the acquisition of Guatemala's Banco Reformador for $411 million and in July of BBVA Panama for $490 million. Both will become BAC Credomatic affiliates in each country and will raise Aval's direct employees to 70,000.
"One of my father's rules is that if your business is not growing, you're losing ground," says Sarmiento
The making of a masterdeal broker
For honing his negotiating skills, Sarmiento credits the time he spent studying and working in the U.S. before returning home to Colombia in 1996 to help run Aval. The milestones were his MBA at Johnson, his four years in Procter & Gamble's finance department, and a stint at First Bank of the Americas in New York.
"My 19 years in the States gave me a global way of looking at things," Sarmiento says. "I totally empathize with Wall Street and the American way of doing business. It's why we have internationalized our business. I always fall back on my experience in the U.S. to negotiate a deal and to transact."
Although his career path took a subsequent U-turn, Sarmiento's undergraduate engineering degree at the University of Miami, where he graduated magna cum laude, was also essential to his deal-making acumen.
"Engineering is more than calculating bridges, buildings, and roads. It's all about a philosophy and a way of thinking. The mental organization I use to tackle and solve problems totally comes from my engineering training in Miami," Sarmiento says.
Alejandro Figueroa, president of Banco de BogotÁ, the flagship and largest of the four Colombian banks that Grupo Aval owns, has worked alongside Sarmiento for 17 years, long enough to know that his number-crunching prowess is a major asset.
"Luis Carlos' intelligence and mathematical skills are important elements of his management style and his ability to analyze deals," Figueroa says. "But so is his emotional intelligence. He has an intuition about people that is usually correct. Not everything is black and white — some things are shades of gray — and many times you have to decide among the grays, and that's where you can appreciate Luis Carlos' management."
Asked to further define his management style, Sarmiento says he likes to mix business meetings with casual, fun conversation to "give people a sense of teamwork and caring." Another rule: He doesn't delegate a task unless he is capable of doing it himself. "If not, I won't be able to understand the finished product after I receive it."
With his bloodline, Sarmiento could have eased into the top management job at Grupo Aval. But that's not his style. The varied path that Sarmiento, an avid pilot and former marathon runner, took to finally assume the operational reins of the Aval holding company says a lot about the values and approach of a man who, associates and relatives say, is driven to prove himself.
Sarmiento's son, also Luis Carlos and now a management student at University of Miami, agrees, saying his dad "never wanted a position of power based on his name. He wanted to earn it, and he has definitely earned it. He's excelled at every single thing he has done."
Discussing his career trajectory, Sarmiento says he especially loved his time at Procter & Gamble, what it taught him about consumers and consumer products, and the way the P&G corporate culture "made you ambitious and want to get ahead without stepping on anyone to do so. … It was like getting a second MBA or a PhD."
Procter & Gamble apparently returned the sentiment, offering Sarmiento a plum job in its Paris office in a bid to keep him, recalls Alfonso De La Espriella, a 25-year member of Grupo Aval's board of directors. "But Luis Carlos Sr. just smiled and said, 'Congratulations on the Paris offer. Now pack your things and get down here to BogotÁ.'"
Managing Grupo Aval, especially over the last decade amid a booming Colombian economy, has been an intense, high-stakes, and highly competitive challenge that Sarmiento clearly relishes. When considering an acquisition, he likely has several other competing banks, foreign and domestic, looking over his shoulder and hoping to expand in the region.
Fostering responsible autonomy
Just as impressive as BAC Credomatic profits is the fact that none of the Central American bank's top managers have left since Grupo Aval acquired it. That reflects the team spirit that Sarmiento has been able to engender in the newly acquired organization, as well as an ability to clearly communicate policies and expectations, says Banco de BogotÁ president Figueroa.
Valentin Hernandez, managing director of Citi's Latin America financial institutions division in New York and a long-time friend and colleague of Sarmiento's, says people he knows at BAC Credomatic have told him they are "delighted" with Grupo Aval as its parent company.
"Luis Carlos' style is to support them and be hands off, to be able to delegate without abdicating responsibility. He lets them do the best they can with their own resources," Hernandez says. "It's a process he has followed with the other banks Aval owns. He's the boss, but he lets the people do what they have to do."
Increasingly, Sarmiento looks to grow Aval with acquisitions in Central and South America, partly because the company is nearing the maximum limit of Colombian financial assets with which Colombian regulators feel comfortable under one owner. That means a lot of hard work and travel to perform the requisite due diligence.
"I think Luis Carlos enjoys it because he sees it as sort of his permanent apprenticeship, in terms of strategy and learning the business practices, legal norms, and tax systems of other countries," Figueroa says.
Giving back
When he delivered Johnson's Durland Lecture in October 2012, Sarmiento urged Johnson students to "share your gains," and it was no throwaway line. Among the many charities Aval supports is one especially close to his heart called Colfuturo that each year finances the graduate studies abroad of 1,000 Colombian students, mainly at universities in the U.S. and Europe.
Students who come back to work in Colombia after completing their graduate degrees get 50 percent of their student loans forgiven. The big appeal for most students, Sarmiento said, is to have access to colleges and universities known worldwide for their research. "For the country to benefit, obviously, you have to entice them back — and they have been coming back," Sarmiento said. "There is such a capacity for the Colombian job market to absorb good people here that anyone who is good will get a job."
Sarmiento also makes his piloting skills and his twin-engine Beechcraft King Air plane available to a worthy cause: He regularly flies medical emergency rescue missions, ferrying doctors and patients in and out of remote areas of Colombia.
Be bold, but calculated
During his Durland lecture, after sharing several experiences as well as the expertise and perspective he gained as a result, Sarmiento urged students to "dare to lead," learn from successful executives, explore the world, and be bold.
"Being bold is about taking the right calculated risks, not the stupid plunges," Sarmiento said in his speech, a conviction that could describe his deal-making approach. "In time, you will learn the difference between the two. Gut is not really the way. It's about studying and putting in the time and understanding what you're getting yourself into and then using your common sense."
A former foreign correspondent with the Los Angeles Times, Chris Kraul is a freelance writer based in BogotÁ, Colombia.