Patrick Wardell, MBA' 79, CEO at Cambridge Health Alliance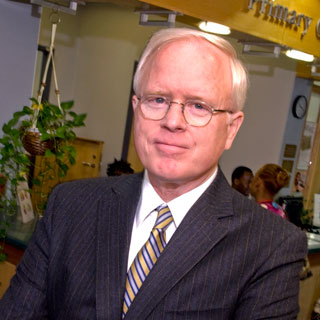 A champion of delivering quality health care to all, hospital administrator Patrick Wardell has an aptitude for assembling diverse allies and engineering financial stability.
The choice was clear-cut. Patrick Wardell could head for Chicago and an administrative job at the teaching hospital for Northwestern University's Medical School. Or he could go to Patterson, N.J., and for a third less money he could run St. Joseph's Health System, a struggling safety-net hospital for the poor.
He chose Patterson. And then, after fixing St. Joseph's, he headed for New York to run a trio of safety-net hospitals in New York City. From there, he was off to Michigan, where his assignment was to fix Flint's safety-net hospital before mounting deficits closed it down. Earlier this year, with that job done, he landed in Boston to run Cambridge Health Alliance, a two-hospital network serving an immigrant and indigent population of 100,000.
For Wardell, such assignments are more than a job; they are a calling. "For almost 20 years, I've been working at safety-net institutions," he says. "They are very special places in terms of their clientele. They are often the first place where immigrants and the poor are treated."
Keeping health care affordable
Wardell came to his profession in a roundabout way. After graduating from Union College in 1974, he worked first as a child-care worker at a facility for children with emotional and psychiatric disorders.
Then he tried Wall Street. But soon he switched direction, enrolling to earn his MBA in Cornell's Sloan Health Administration Programi, where he focused on hospital and health system administration. He went through several jobs after graduating before finding his niche.
Cambridge Health Alliance (CHA) — an integrated healthcare system comprised of two hospital campuses and an extensive primary care network serving Cambridge, Somerville, and Boston's metronorth communities — may represent Wardell's biggest challenge yet. Massachusetts, which pioneered universal coverage under then-Governor Mitt Romney, now wants to pioneer cost-conscious medicine that emphasizes keeping patients healthy through lifestyle changes.
When CHA went shopping for a new CEO, Wardell seemed made to order. "Pat had a huge bandwidth of experience, especially with public safety-net hospitals," says Mary Cassesso, former chair of CHA's board of directors and head of the search committee that hired Wardell. "Many CEOs do not have this. But Pat had experience turning hospitals around."
He also has a commitment to bringing quality medicine to those in financial straits. "Ours is a public safety-net hospital that turns its back on no one," says Cassesso. "And Pat is a man who cares deeply about the population he serves."
Wardell brings a set of fresh eyes and ears to CHA's problems. "We knew our challenges weren't going away, so it's sometimes good to have someone come in who hadn't grown up in the system," says Cassesso, who is dean for administration and finance at Harvard's School of Dental Medicine. "Pat was a wonderful listener. He was excited by the possibilities going forward."
Wardell also possesses another critical requisite for running a safety-net institution. "You have to be able to juggle health care and finances," says Cassesso. "We have to be able to survive in the present in order to do great things. It was clear to all of us that Pat understood how challenging our situation was."
These hospitals are "always on the edge of going south," Wardell says. For that reason, he believes they require a special type of leadership. "To be successful in leading these organizations, you have to be able to address the underlying financial problems while dealing with the things that make them important to their communities — like neonatal care and trauma programs."
From one safety-net hospital to the next, the underlying problems are the same, Wardell says. There are too many people who can't pay for America's high-priced medicine and too little money to cover their care. But the particulars may differ from place to place.
Tackling red ink in Flint
In Flint, the city-owned Hurley Medical Center was treating a growing population of families hit by the erosion of automotive jobs in the Midwestern industrial belt. When Wardell arrived in 2006, General Motors — long the city's dominant employer — was steaming toward bankruptcy. The fallout was hitting Hurley. Flint was in no shape to bail it out; the city was headed toward a state takeover of its finances.
When Wardell walked in the door to run Hurley, the hospital had already sustained $34 million in losses over the previous seven years and was still hemorrhaging money. Just two years later, the hospital rang up a $7 million surplus. And before he left, Wardell had established the Hurley Children's hospital and built a new trauma center that treats 90,000 residents a year. He also played a key role in convincing Michigan State University to establish a medical school in Flint — a move that will help the economy and boost health resources for the community.
Wardell pulls off miracles with a quiet, reflective style that sets attainable goals and then channels the talents of his staff to reach them. But he never loses sight of the bottom line. "He understood the importance of maintaining a margin to sustain the organization," says Kevin Murphy, Wardell's chief financial officer at Hurley.
Wardell quickly put the hospital's finances on the front burner. "He was very clear, very firm," Murphy recalls. "He changed the emphasis from whether we would survive to how we would thrive. But it was a very relaxed approach. He was very collaborative. He gave people room to do their job without micromanaging.
"He just made sure that we did things according to industry norms. He wanted to minimize expenses and maximize revenues without jeopardizing patient care." Wardell did this in part by shifting his staff around — putting each in a job that played to their strengths.
He also got concessions from the nine labor unions that represented rank-and-file workers at Hurley and did it without triggering strikes or other job actions. In addition, he got along with the city's elected officials and others in Flint's power structure, groups that included the United Auto Workers and the NAACP.
As he went about accomplishing these things, he won people over by his sincerity. "Often these jobs are a way for hospital executives to make some money and build their careers," says Murphy. "But Pat never regarded the job that way. Pat brought a very genuine concern to making sure that folks had access to quality health care regardless of their economic situation. I think it was a very genuine belief he held."
He did all this without ever showing the pressure he was under to succeed, Murphy says. "We had tough times, tough issues, and cantankerous people to deal with. I never saw him lose his cool."
Big challenges ahead
Wardell keeps on even keel by trying to leave his job behind when he goes home. He also stays in shape, walking three-quarters of a mile each way from his home to his Cambridge office. When he can get away, he favors kayaking and hiking. Earlier this year, Wardell, his wife, and one of his daughters traveled to Iceland to hike. His other love is reading. He recently finished two mysteries and is now working his way through a thick biography of Russia's Catherine the Great.
Wardell will need the ability to stay centered in his new post. Now that virtually everyone in Massachusetts has health-care coverage under "Romneycare," the state wants to hold cost increases to the rate of inflation or less, a tough goal in the best of times.
Wardell says the way to do that is to keep the populace healthy — by getting people to quit smoking, by getting heavy drinkers to join AA, by getting diabetics to exercise and change their diet. He also wants to screen patients for depression, a risk factor for illness. CHA's staff was working on these measures before Wardell arrived, but with the state mandate to control costs, preventive care will be pushed harder than ever.
All this represents a major change. In the past, CHA and other safety-net institutions treated patients and then got reimbursed for it, the so-called fee for services. Now the goal is to avoid the need for services as much as possible, especially hospitalizations. Wardell also wants to farm out certain services to hospitals that are better equipped to handle them — cardiac catheterization for example. CHA would emphasize preventive care, trauma care and other primary care services.
But for the moment, he is busy getting to know his new institution. "He cruises through the hospital in the morning talking to patients and staff," says Judy Klickstein, CHA's senior vice president for IT and strategic planning. "He likes to converse with people and hear things on the ground. That's something I've not seen many leaders do. He's spent the first six months here listening and learning and assimilating a lot of information."
But the future direction is clear — CHA must come to grips with costs by shifting its emphasis from treatment to prevention. "I really believe there's an opportunity to keep patients well through preventive care," he says.
This is but one of the many health-care challenges that keeps Wardell enthusiastic after decades in high-pressure jobs. "Finally, the U.S. is going through major health-care reform," he says. "It's an exciting time. I just turned 60, but I can't imagine retiring."
i Cornell's Sloan Health Administration Program was housed in Johnson's predecessor, Cornell's Graduate School of Business and Public Administration, until 1983. Since then, Cornell's College of Human Ecology has been the home of Cornell's Sloan Health Administration Program.
A regular contributor to Cornell Enterprise, Doug McInnis covers just about everything, from football to globalization, for a host of magazines and newspapers from his home on the range in Wyoming.