Lorna Smith, MBA '87, CEO at Horizons National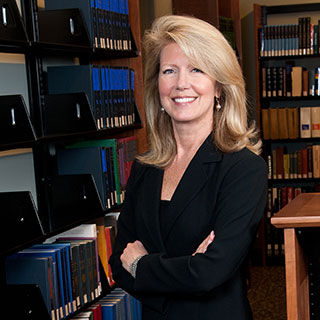 In her five years leading Horizons National, a nonprofit serving low-income and educationally disadvantaged students, CEO Lorna Smith has helped transform the organization into one of the top summer-learning organizations in the U.S.
What if schools that typically shut down in the summer stayed open to offer underserved, local youth a chance to play educational catch-up? Horizons National forms partnerships with schools to do just that: Its six-week summer program blends high quality academics with cultural enrichment and confidencebuilding activities. The result? Students caught in the achievement gap gain the tools and support they need to become successful and confident college-bound students.
Lorna Smith joined the national nonprofit eight years ago, became executive director three years later, and was named CEO in 2010. Growing up during the turbulent civil rights activism of the sixties, she became a staunch advocate of social justice. Not surprisingly, Horizons' mission to close what she describes as "a gap of opportunity and resources" resonated strongly with her.
Creating a Unified Network
When Smith came on board, the only other employee was the executive director. "With just the two of us, it was a like a startup in many ways," she says. "Our annual budget was a meager $250K, so we had nowhere to go but up." The duo's goal was to add more affiliate schools to the organization's dozen sites. But Smith quickly saw a more pressing need.
The 12 affiliates that were already part of Horizons' network behaved as separate entities, and had only minimal ties with both the central office and their sister sites. Smith knew that to secure the outside funding needed to expand, Horizons would have to identify itself as a national organization. This meant all its affiliates had to be part of a unified system and infrastructure.
"We knew, if we listened to our affiliates and understood their needs and how they operated, we'd be able to enlist their energy in developing Horizons' core principles and building program consensus," she says. "We've worked very hard to find that sweet spot — that balance between standardizing and encouraging local innovation and ownership."
Through meetings and visits, Smith heard what the affiliate-sites needed and wanted: funding support; centralized resources, including standardized procedures to assess student progress and evaluate curriculum; opportunities for professional development; and quality control for Horizons' programs. Smith oversaw the creation of affiliate agreements detailing the responsibilities of both affiliates and the central office. "We really prepared ourselves for our growth," says Smith.
By 2008, summer learning had become a hot topic in educational reform, and Smith felt the time was ripe for Horizons to double its affiliates and promote the brand. Around this time, educational nonprofits seeking funding were being required to provide rigorous evidence of their successful outcomes. Fortuitously, three educational research studies conducted by Yale University demonstrated the beneficial impact of Horizons' approach.
Quantifying Horizons' successes is a discipline close to Smith's heart. At one of her earlier jobs after college — as circulation director for a legal periodical — Smith realized she needed better tools to determine which solicitation tactics elicited the most responses from readers. "That's when I knew I had to learn how to better collect and analyze data," she says. So she came to Johnson to get her MBA.
Funding Efficiency
Beyond data collection, Smith prides herself on spearheading the innovative funding model that Horizons has developed. "Our funders love that we leverage every dollar they give us two or three times, so that it generates three to five times the value of the original contribution," says Smith. "We have a very efficient funding model."
Affiliates reach out to local funders, while the Horizons central office facilitates their access to donations from "the broadest possible range of private philanthropy," as Smith describes it. "The small size of the new affiliates would prohibit their access to large national funders, and the national office would similarly have no access to meaningful local philanthropy," she says. "However, the Horizons' model, which allows national funds to flow to new affiliates, connects corporate and local philanthropy."
Supporting Affiliates
Horizons facilitates communication among affiliates, providing free monthly conference calls for the affiliates' executive directors and hosting two annual conferences for all affiliates. "This shared information allows Horizons to become a clearing house of innovative ideas and best practices," says Smith. "One affiliate might describe a particularly successful fundraiser and share this strategy with other affiliates. Or a teacher might describe an effective approach with students, prompting other affiliates to try it."
Empowering the affiliates' teams is also part of the plan, says Jenny Leger, an early-childhood educator who served for seven years as executive director of the Colorado Academy affiliate in Denver. "When Lorna visited us, she was always so generous with her praise of our teachers, who gave up their summers for this worthy endeavor," says Leger, now a consultant for Horizons. "Her words empowered their spirits, and eighty percent of them returned to teach in the program over subsequent summers."
Seizing Opportunities
Historically, Horizons' model for adding affiliates focused on building long-term learning communities with independent and private K-12 schools. The schools provide campus space — and often business and maintenance services — free of charge. Now, Horizons' affiliate roster includes five institutions of higher learning: two community colleges, two small, private colleges, and one graduate school of education. Smith believes they are a good fit. "Many institutions of higher learning, especially community colleges, believe in the 'cradle-to-career' support of their communities," says Smith, adding that remedial education — one of Horizons' hallmarks — is often a key component in serving the local population.
"We're taking a good, hard look at what we have to do in adjusting our business plan and its goals," she says. It's all part of staying nimble, a trait Smith has used to green-light affiliate-generated ideas. For example, all Horizons' summer programs began at the first-grade level for youngsters who had completed kindergarten.
However, Meredith Laban, executive director at the Dedham Country Day School affiliate outside Boston, wondered what would happen if sites welcomed even younger children. Last fall, she proposed a pilot, pre-kindergarten program at her site to begin this summer. "Lorna is very supportive of innovation and she agreed to provide the funds for us to launch the pilot," says Laban. "She trusts her executives and teachers to be successful."
The fruits of Smith's multi-faceted outreach are quantifiable. "In any given year since Horizons' existence, the most we had ever increased our affiliates was by two," she says. "This summer, we're adding six new ones; we had planned to add five. And, because we had the resources in place — both financial and organizational systems — we could absorb them all."
These new sites bring the total number of Horizons affiliates to 26; Smith expects to double that number by 2016. "We're on a steep growth trajectory," says Smith, who's well aware that wellexecuted expansion may garner more interest and support. In 2011, Horizons served 2,015 students in 10 states through 20 affiliate programs; it employs 10 full-time employees, and stays lean by contracting with consultants.
Jane Williams, chair of Horizons' national board of directors, points out that there can be challenges to heading a growing organization. "We had to trust when we appointed Lorna to lead Horizons, she would also be the ideal person to shepherd our organization into tomorrow," says Williams, who's also the producer and host of "Bloomberg EDU," a radio program. "She not only has that flexibility, but also the vision to see what's around the corner. How does a board of directors get so lucky?"
In many ways, Horizons offers the ideal platform for Smith's mix of market-research expertise, entrepreneurial skills, and social principles.
"When I started working here, it felt like home and I remember thinking, 'This program has so much potential, like a seed waiting to blossom,'" says Smith. Many would agree that Horizons, a 2010 recipient of the Excellence in Summer Learning award from the National Summer Learning Association, the industry's policy and advocacy organization, has achieved full bloom.
Coeli Carr writes about business topics. Her articles have appeared in The New York Times, Time, portfolio.com and many other publications.