Cornell's Emerging Markets Institute appoints Humberto Luiz Ribeiro
Ribeiro, a former senior member of the Brazilian Federal Government, will focus his studies on the services industries in emerging markets
---
Ribeiro, a former senior member of the Brazilian Federal Government, will focus his studies on the services industries in emerging markets
---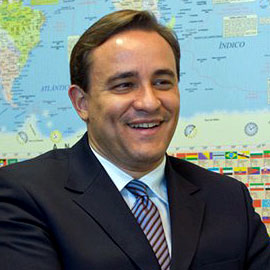 Cornell's Emerging Markets Institute appoints Humberto Luiz Ribeiro, former Brazilian Secretary of Commerce and Services as Visiting Scholar
The former senior member of the Brazilian Federal Government will focus his studies on the services industries in emerging markets and beyond
ITHACA, N.Y., September 17, 2014 – The Emerging Markets Institute at Cornell's Johnson Graduate School of Management announced today that Humberto Luiz Ribeiro, the former Brazilian Secretary of Commerce and Services, has joined as a Visiting Scholar for the 2014-15 academic year.
Mr. Ribeiro's academic work will draw from his successful experience both in the private and public sectors. His 3.5 years tenure with the Brazilian government was instrumental to transform policies for services entrepreneurship and competitiveness in the country. Now, he intends to proceed studying the development of services industries globally, including as the impacts on consumer welfare, trade, global value chains, labor, innovation and productivity.
"I am very pleased to be joining the Institute as a Visiting Scholar," commented Mr. Ribeiro. "The global development agenda and the Emerging Services agenda are coincident. Together with Cornellians and experts from across the planet, I look forward to collaborating with governments and companies to leverage the opportunities Service industries offer to our society."
"We welcome the Secretary to our campus," added Lourdes Casanova, Academic Director for the Emerging Markets Institute. "We believe that the vast resources for research offered by Cornell will enable him to generate significant findings for the services sector."
About the Emerging Markets Institute at Johnson at Cornell University:
Established in 2010, the Emerging Markets Institute was founded at Cornell University's Samuel Curtis Johnson Graduate School of Management to promote the research and study of emerging economies. The Institute provides a private forum for lively exchange among corporate leaders from emerging and developed markets and leading researchers. We are building the most highly regarded academic program for the study of emerging markets—with the breadth, depth, and quality of education needed to effectively prepare business leaders for success.