02/09/2016
In January 2016, I had the opportunity to visit China with 26 of my classmates from the Johnson School at Cornell University. The goal for the trip was to help us better understand the history and culture of the Chinese people and its influences on local business.
by Rahul Shahani, MBA '16
---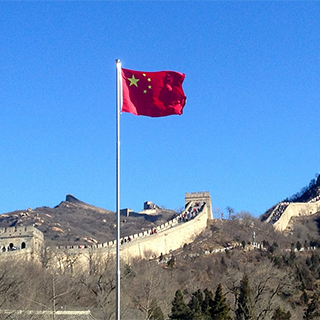 Our itinerary was designed by classmates who had grown up in China. We spent nine days visiting historic sites like the Forbidden City, attending cultural symposia like the Beijing Opera and eating a wide assortment of food from various regions. These traditional tourist activities were augmented by visits to local companies, where recent alumni and executives spoke to us about their company's strategies and work environment.
I walked away from China with better insight into the local norms and cultures, which were much more nuanced when compared to what I had read and heard previously. This experience helped me better contextualize the decisions made by the government and people. I learned how people think in, what will soon become, the largest economy on the planet.
Over the course of our trip, we visited many technology companies of varying levels of maturity. From start-ups like Didi Kuaidi to global technology behemoths like Lenovo, we wanted to learn more about one of China's fastest growing sectors. In addition to visiting technology companies, we also visited companies like a venture capital firm and the Shanghai Stock Exchange to understand the ancillary impact China's tech boom was having on the economy.
Didi Kuaidi is a taxi hailing startup that operates solely in China. They control over 80% of the Chinese ride hailing market with Uber sitting in a distant second place. Didi Kuaidi completed an astonishing 1.43 billion rides in 2015 and is valued at over $16 billion.
Xiaomi started out as an app development company, but they have rapidly grown after they launched their own smartphones, tablets and series of other consumer electronic products. Xiaomi is often referred to as the Apple of China and was considered the most valuable start-up in the world in 2014. Xiaomi has pursued a unique strategy targeted at the "internet of things" market and as a result their products like power bars, air purifiers and hover boards can be found in almost every urban Chinese home.
Lenovo is credited with founding the Chinese technology sector over 30 years ago. They built their business on traditional personal computing and have been a stalwart of the Chinese business diaspora. Lenovo is undergoing a massive transition as the PC market stagnates and mobile and cloud services become key drivers of growth. Lenovo recently bought IBM's PC and Server businesses and Motorola's mobile unit. Their maturity and its associated challenges offers an interesting contrast to the growing pains of Xiaomi.
JD.com was one of China's earliest B2C ecommerce companies. JD is unique as they have built their own logistics network in China, including last mile delivery. As a result, their network of warehouses, delivery trucks and personnel make up one of the largest and most complex single country logistic services in the world. Recently, they have been helping the Chinese government build infrastructure into deep rural areas as they expand their footprint. With a market cap of $34 billion, they are one of China's most dominant technology companies.
The Alibaba Group started as China's B2B ecommerce platform. They have ballooned into a $160+ billion behemoth since they diversified into B2C and C2C e-commerce, cloud computing, e-payments, shadow banking and entertainment. Their IPO on the NASDAQ in 2014 was considered the largest IPO in history with over $25 billion worth of shares being offered.
Matrix Partners is an American venture capital firm with a storied history. They are most famous for investing in Apple as an early stage investor. They opened their Chinese offices in 2008, with two western educated Chinese nationals, and in the years since have made several highly successful investments including Didi Kuaidi and Baidu. Their success is indicative of the tremendous growth wave in early stage companies sweeping the Chinese economy.
The Shanghai Stock Exchange is the 5th largest stock market in the world with a total market capitalization of $3.5 trillion. The exchange sees unusually high levels of volatility compared to other global exchanges due to its heavy skew towards retail versus institutional investors. This volatility was a key driver in the January 2016 sell-off that triggered circuit breaker safe guards and sent the Chinese market tumbling 15% over ten days. The Dow Jones Industrial Average also fell 8.2% in the same period in response.
Vanke is a Chinese real estate developer with global ambitions. Their traditional focus has been middle income housing in tier 2 and tier 3 cities but recently, they have begun building high end luxury developments in Shanghai and Beijing. Vanke represents a new generation of Chinese enterprise catering to the nouveau rich in the country. Beyond their real estate investments, they also operate the Jade Club, a social group for of customers who have bought at least $2 million worth of real estate from the company.Through these visits, there were three key themes that I observed that helped me sum up my impression of Chinese businesses and their role in the global economy:
Chinese companies have tremendous scale and liquidity from domestic operations
Chinese companies seek to expand internationally starting with India
Chinese companies are choosing to hold themselves back and manage their growth
Alibaba and JD.com are seen as behemoths of the Chinese ecommerce marketplace. They are valued at $168B and $35B respectively on the NASDAQ. Xiaomi was most recently valued around $40B and Didi Kuaidi has a respectable $16B valuation. These companies have significant operations only in China. They do not play on the global stage, but their valuations put them in the same league as some of the biggest companies on the planet. They have achieved tremendous scale simply by serving the Chinese market and growing organically domestically.
Today many of these companies have globally significant scale. They have access to capital and liquidity that allows them to make significant investment and acquisitions globally while their limited exposure outside China keeps them flying under the radar. The business world was surprised when Lenovo bought IBM's PC and Servers business and Motorola. It look Lenovo over 30 years to achieve that buying power. We are entering an age when Alibaba could easily buy a company like Twitter or Netflix or even Uber.
In 2015…
Alibaba bought a 25% stake in Indian e-commerce company One97.
Didi Kuaidi bought a stake in Indian cab hailing company Ola.
Xiaomi entered the Indian market with a partnership with local ecommerce company Flipkart
Chinese companies have achieved tremendous scale within China. Their enormous spending power makes them hungry for growth and they are looking outside China. Given cultural similarities, geographic proximity and similar levels of market maturity, many Chinese companies have set their sights on India as their natural next market. Given the comparative openness of the Indian market, these Chinese companies face stiff competition in India as Amazon, Google and other western technology companies also try to compete in Asia's second fastest growing economy.
So what does this mean for Chinese companies and Chinese influence around the world? These companies can achieve tremendous scale in China and they have access to liquidity that allows them to make global investments, yet they choose to refrain from using their monetary power and instead follow a more cautious, India centric, growth strategy. What explains this phenomenon?
The answer to this, I believe, lies at the heart of the Chinese culture. As a familial centric culture rooted in humility and conservativeness, the current generation of middle managers in China have been largely shielded from western ways. While senior leadership is well travelled, they understand that major global acquisitions would face strong cultural integration challenges so they choose to expand at their own pace, satisfied with the growth they can capture within the Chinese economy.
In my mind this draws parallel's with the Japanese car companies in the middle of the last century, they were largely left alone to grow on their own within South East Asia before disrupting the American auto industry for 50 years. The recent volatility in the global economy has made it clear that the world is inexorably linked to Chinese enterprise. China's success is the world's success and China's struggles send ripples through the global economy.
I expect China to continue to be significant driver of business and technology in the next fifty years. But time will tell if Chinese businesses are able to break out of China and become major conglomerates on the world stage.
Time will tell if these businesses can extend and affect global cultural change.