Bent on Success: Juan Matienzo's REDtalk on creativity and persistence
02/29/2016
Juan Matienzo, EMI Fellow Candidate, delivers a REDtalk on how he applied creativity and persistence to land a unique and exciting job in the hospitality industry.
---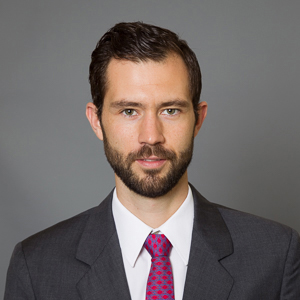 By Giorgi Tsintsadze '17
Juan Matienzo, MBA '17, an Emerging Markets Institute Fellow candidate, underscored the importance of being earnest and optimistic in the face of drawbacks and obstacles in a candid, inspirational, and witty REDTalks presentation that clearly resonated with his fellow MBA students.
"Never let any situation define what you're capable of," Matienzo advised classmates in a REDTalk delivered Feb. 11 in Sage Hall. Even if a goal seems unattainable at first, that should not be a reason to abandon your ambitions and aspirations. It is inevitable that there will be "lessons in humility and reality slaps," he warned. But through hard work and a willingness to take risks, you can overcome all obstacles, he assured his listeners. To illustrate, Matienzo told the story of his very first success.
As an undergraduate pursuing his passion for hospitality management, Matienzo launched a journey he hoped would land him in his dream position of general manager at a hotel. Admittedly audacious and unswayed by any skeptical reactions he received from his peers, he began by conducting a rigorous study of the hospitality market in his native Mexico to identify a company he felt attracted to. He studied the hospitality company's structure and kept an eye out for potential openings, so when an opening finally appeared, he was quick to apply.
Although his application was rejected, Matienzo did not give up. He used his savings to book a room as a regular customer at the hotel in question. Describing himself as a "mystery shopper," he scrutinized the inner workings of the hotel, recording each and every aspect of its operations. He prepared a detailed report based on his observations, including suggestions for improvements, and mailed it to the owners of the company. Sure enough, he got a response the next day inviting him to an interview with the company's shareholders. Eventually, through the confluence of hard work, smart decisions, and sheer serendipity, he stepped in as the general manager of not just one, but two hotels within Mexico's largest and the most innovative boutique hotel company.
Matienzo's talk spurred further discussion among fellow MBA students, who stayed in the student lounge afterwards to exchange ideas triggered by some of the points Matienzo made.
About REDTalks
REDTalks, which began in fall 2015, is a half-hour speaking event held a few times each month during the academic year. MBA students gather in their sunny, collaborative space in Sage Hall, settle into couches or oversized chairs, and listen to one of their peers tell a story about themselves. Modeled after TED Talks (short presentations given at TED conferences under the slogan "Ideas Worth Spreading,") REDTalks invites speakers to share valuable insights from their personal and professional experiences.