Breaking down barriers to education in Ghana
11/29/2016
In his REDTalk, "School of Thought: Insights from Ghana," Bright Botchway draws on his own life story to illustrate how education makes a difference.

by Giorgi Tsintsadze '17
---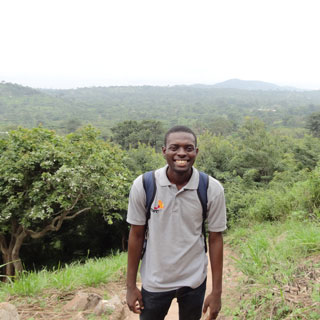 When Bright Botchway, MBA '18, enrolled in a boarding school in his native Ghana, he did not know what to expect. He had already gone further in his studies than anyone else around him. Years later, when he graduated from high school, he was the first in his family to do so. Today, he is a first-year MBA student at Johnson and his is a story both unique and representative of problems that riddle the educational system in Ghana. It is also a story of how to overcome them.
Botchway spoke at a REDTalk at Sage Hall on Nov. 17, during International Education Week. REDTalks, half-hour speaking events held by Johnson students a few times each month during the academic year, give Johnson community members a chance to share their stories with their peers. As REDTalk officer Nicola De Vera, MBA '18, explained, REDTalks looks for speakers who want to tell a story that is both based on personal experience and relevant for the audience. "People must be able to feel like there is a takeaway," she said. Without about 30 listeners, Botchway's presentation, "School of Thought: Insights from Ghana," was one of the best-attended REDTalks this semester.
After graduating from the University of Ghana, Botchway sought an opportunity to help others chart their own educational paths and found one in Omega Schools, a network that offers innovative and affordable primary education to children from low-income families throughout the country. Botchway had come to Omega at a difficult time: Fiscal challenges were mounting, the sustainability of the business model was being questioned, and the board of investors — whose backing was vital for the continuity of the enterprise — was pondering withdrawing its support.
Concerned about what would happen to hundreds of school children enrolled in the network if it were to fail, Botchway and others within Omega approached the board and offered members pro bono consulting. Working after hours and over weekends, Botchway and his friends put together a report that critically assessed the Omega Schools' model. They also formulated a set of recommendations that included changes in the management and rethinking of the operational structure. The board, impressed with the report, instituted the changes and mobilized the necessary financial resources. Today, 20,000 children are enrolled in 38 Omega Schools across Ghana.
Botchway maintained his interest in education after moving to the United States. Recently, he heard of a high school graduate in Ghana who had received remarkable scores at standardized tests but was unable to afford costly college applications. For Botchway, who had won an award enabling him to come to the U.S. and spend a year with a host family in St. Louis when he was in college, the story was a revelation: "There are people who are way smarter than I am who have not had the opportunities that I've had," he said. The transition from high school to college, the speaker explained, is another significant obstacle that low-income students confront in Ghana. To surmount the gap, Botchway is working on an initiative that helps prospective students connect with colleges domestically and internationally, curbing the often overwhelming costs associated with transportation and submission of applications.
Looking ahead, Botchway hopes to help bring about further improvements in the Ghanaian educational system. "People are aware of the importance of education. The biggest challenge is access," he remarked. He explained that structuring loans for low-income families and tailoring payment plans for students who are unable to make a large, one-time payment but could afford daily fees — a system he first encountered in Omega Schools — could go a long way in "breaking down the barriers" that students face in their search for affordable education.
"Education can make a difference," Botchway said. "I know it does. I've seen it myself."