OECD EMnet Meeting on Latin America
On June 9th, Lourdes Casanova, Director of the the Emerging Markets Institute and Anne Miroux, EMI Faculty Fellow participated in the OECD Emnet meeting on Latin America, "Navigating Uncertainty: Strategies for Innovation and Growth".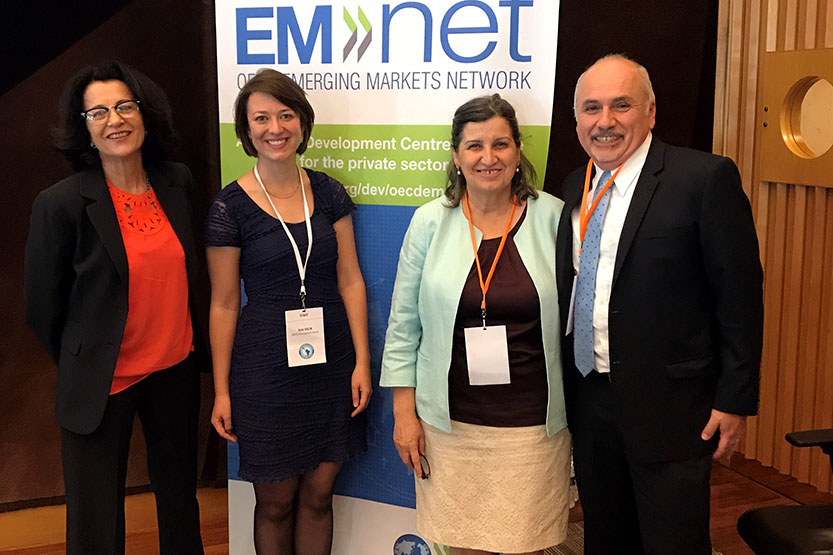 EMnet Meeting on Latin America
Navigating Uncertainty:
Strategies for Innovation and Growth
French Ministry of Economy and Finance, Paris
The EMnet Meeting on Latin America will gather multinational companies, policy makers and OECD experts to discuss strategies for innovation and growth and their impact on business operations in Latin America.
This meeting will be held back-to-back with the 9th International Economic Forum on Latin America and the Caribbean and will benefit from the participation of Ministers and high-level officials from Latin American countries with responsibilities in the realm of finance and development.
Opening Session
Joint morning session with the International Economic Forum on Latin America and the Caribbean
Keynote remarks
Session 1: Strategies for growth amid uncertainty and risk of protectionism
Latin America is expected to return to positive growth in 2017 after two consecutive years of recession. Yet the region is facing increased social vulnerability, productivity stagnation and growing global protectionism. To counterbalance uncertainty, commitment to innovation and skills development will be crucial.
Session 2: Unlocking investment in innovation in Latin America
Labour productivity in Latin America has declined in the past decade in comparison to more advanced economies. Innovation can play a key role in the region to support productivity improvements. What role can the private sector play in bringing investment in innovation up to speed?
Session 3
The future of work
Session 4
Infrastructure for innovation
Innovation is changing the labour market, shifting the demand for skills towards new activities. This could aggravate regional skills mismatches.
Innovation needs a vast network of infrastructure in place. How are infrastructure opportunities developing across Latin America?
Session 5
A new chapter for trade?
Session 6
Investing in the digital economy
With rising protectionism, NAFTA and the TPP in question, what will trade uncertainty mean for doing business in Latin America?
The expansion of digital technologies in Latin America is opening up new areas for business growth. However, barriers hindering the development of the digital economy still exist.
Source: (http://www.oecd.org/dev/emnet-latam-business-9-june.htm)
For further meeting details see: