Cornell Takes Second Place at Duke Energy in Emerging Markets Case Competition
Cornell MBA's Madeleine Mc Dougall, MBA '19, and Crosby Fish, MBA '18, joined Seth Olson (MS, Applied Economics and Management, 2018) to participate in the Energy in Emerging Markets Case Competition hosted by Duke University.
by Madeleine McDougall
---
On November 6, 2017, Duke University hosted its annual Energy in Emerging Markets Case Competition. The case asked participating teams to identify the next big growth opportunity for M-KOPA, a pay-as-you-go (PAYG) solar company in Kenya. The Cornell University team clinched second place with a proposal that demonstrated a deep understanding of the energy landscape and the key characteristics of Kenya's emerging market status.
With an average GDP growth of 5% over the last 8 years, an active private sector, and growing middle class, Kenya is among the most dynamic economies in the world today. This growth has attracted foreign direct investment and trade flows from other countries, and it has made Kenya the economic, financial and transport hub of East Africa. Yet Kenya must overcome a series of hurdles before it can achieve a sustainable level of growth. Energy access represents one of the most complicated of these remaining challenges.
Like many emerging markets, Kenya's energy landscape is split between those with access to the national power grid and those without. Today, only 20% of Kenyans have access to the grid, but that number is increasing rapidly as the Kenyan government, national utility and international donors invest heavily in grid expansion and connection rates. This strategy poses a conundrum for M-KOPA and other PAYG solar companies, who have built successful businesses providing low-income, off-grid citizens with access to solar electricity. In other words, M-KOPA is winning in a shrinking market.
The Cornell team proposed that M-KOPA implement a two-part solution. First, M-KOPA should free up capital on its balance sheets by securitizing solar home systems. Then, the company should use that capital to invest in a new business unit, M-KOPA Nyumbani ('home' in Swahili), a PAYG home appliance business for on-grid customers. The team argued that M-KOPA has the reputation and sales volume needed to attract commercial investors and successfully securitize. This advantage is further boosted by recent capital markets reforms in Kenya. Essentially, securitizing M-KOPA's solar home systems allows M-KOPA to stop acting like a bank and focus on its true strength of helping customers achieve ownership of the products and services that will improve their lives.
M-KOPA Nyumbani ('home' in Kiswahili) represents a logical next step for the company. The business unit would bring refrigerators, stoves, and other appliances to low-income grid-connected Kenyans, helping them get more out of their energy access. Similar to the solar home systems, customers could use their mobile phone to make payments against the appliance and M-KOPA could use a remote cell signal to turn off the appliance in the instance of non-repayment. The Cornell team explained the myriad of benefits associated with ownership of these appliances, including decreased risk of foodborne illness and disease, better air quality, time and money savings, entrepreneurial opportunities, as well as psychological and aesthetic benefits.
For this year's competition, EMI Fellows Crosby Fish (MBA 2018) and Madeleine McDougall (MBA 2019) joined Seth Olson (MS, Applied Economics and Management, 2018) to lay out the vision for M-KOPA. Together, the team combined experience working with public and private partners in Kenya and other emerging markets, a deep knowledge of financial models, energy infrastructure, and sustainable development.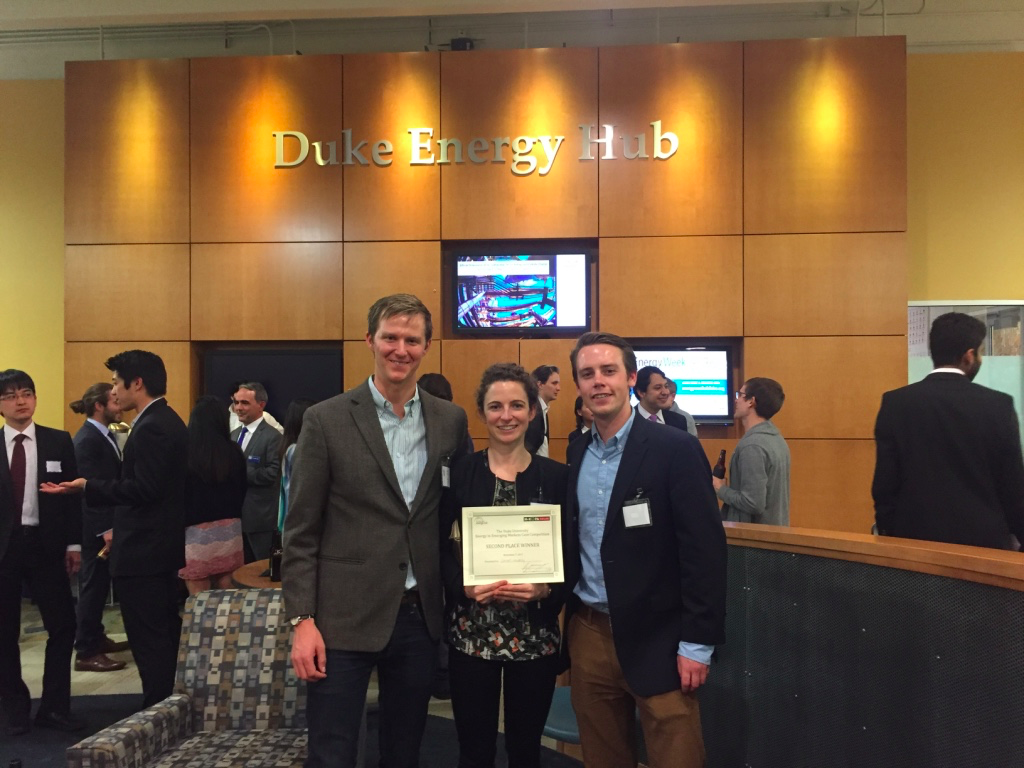 Competing in the case competition provided the team with a number of valuable lessons and experiences. First, the team learned how to balance preparation for the competition with competing school priorities. Second, the team learned how to build a strong business model without easy access to relevant information. One of the foremost challenges of studying emerging markets is the extent to which available information is not always accurate or complete, a reality that reflects the emerging market's lack of sophisticated research infrastructure and the simple fast that things are always changing! Nonetheless, the team leveraged Cornell's Management Library's extensive resources as well as several on-the-ground contacts to complete the picture. Third and finally, the team learned how to convey the technical details of their proposal in simple, succinct language to the judges.
Once at Duke University, the Cornell team thoroughly enjoyed meeting the other finalist teams and learning about their proposals, which ranged from partnerships with Kenya's national utility to community-based microgrids. The competing teams also had the unique opportunity to engage M-KOPA senior leadership via Skype to further discuss the challenges the company faces and the changing energy landscape in Kenya.
The Cornell team could not have competed in the finals and demonstrated its competence to the judges and other schools without the generous support of the EMI. The EMI plays an important role in expanding Cornell Johnson students' understanding and experience with emerging markets. In addition to case competitions, the EMI executes on its mission by providing students with opportunities in academic research, travel and field experience.