Connecting the Dots, CMAM Style
by George Santo, MBA '14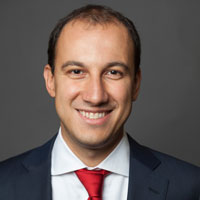 I came to Johnson looking to transition from a career in corporate finance to one in equity research. I also wanted to learn to structure formal investment recommendations. From the start of the first semester, the key to success in research involved developing several stock pitches for interviews. However, part of being a good investor and / or capital markets participant is having a comprehensive understanding of how capital markets function and how players in the market analyze and use different financial instruments. That is precisely what the Capital Markets and Asset Management (CMAM) Immersion teaches, and it all starts at the beginning of the second semester with our "Week on Wall Street" trip.
Week on Wall Street is designed to give students a deeper understanding into the various career tracks within CMAM, including sales and trading, private wealth management, and equity and fixed income research, by delving deeper into specific topics within each of the career tracks. Through discussions with practitioners in each respective discipline, students are able to apply their classroom learning to real-world applications and develop an appreciation for the complexity of the capital markets.
The first day of this year's two-day trek began with a session at Morgan Stanley on securitization. Our speaker, a former subprime trader, selected several subprime deals executed before the financial crisis and walked the class through how each deal was structured and traded by various financial institutions. His ability to take complex subjects and break them down into simple terms really brought the subject to life. We were able to follow specific deals as they evolved throughout the crisis and gained a perspective unlikely to be found in regular textbooks. This is very typical of CMAM discussions.
The second day began at 7:00 a.m. at J.P. Morgan for morning call, a staple in equity research. Morning call is an internal meeting between research analysts and sales teams to disseminate information on companies that are likely to see heavy trading action that day. The main topic on the agenda centered on a leading aerospace and defense corporation's recent battery problems on its planes. While we had heard about the issues in the news, it was an incredible opportunity to hear from an industry expert on the precise impact to the corporation. We added to it an inside look at valuing companies in the oil services & drilling sector and even conducted a case study on the semiconductor industry that taught us how to analyze companies in highly cyclical industries. In a fitting end to the trek, the whole class assessed the impact of the Sprint/Softbank deal announcement on Sprint's bonds using concepts we had learned in a fixed income intensive class prior to the trek.
The CMAM Immersion has thus far exceeded all my expectations. I have received such a high level of interaction with practitioners in the field that I have found myself more knowledgeable about topics applicable to current business practices. The hands-on assignments are specifically designed to expand one's knowledge and weave multiple disciplines into a cohesive way of thinking about capital markets. In short, the CMAM Immersion has been one of the best highlights of my Johnson education.