Quenching my Thirst with the Capital Markets & Asset Management Immersion
by Robert Michaels, MBA '14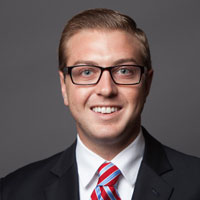 The first semester at Johnson consists of challenging core classes, such as microeconomics, finance, accounting, and rigorous case competitions. While the 'core' was interesting and is absolutely necessary for gaining competency in all areas of management, I found myself yearning for knowledge that I would apply to both my summer internship and post-graduate career. My thirst was quenched the moment the Capital Markets and Asset Management Immersion (CMAM) began.
The semester started with condensed courses in valuation and fixed income, in which we learned of practical investment framework and yield curve analysis. Following our valuation and fixed income classes, we went to New York City for Johnson's annual Week on Wall Street trek to visit a number of buy and sell-side firms. Alumni gave presentations on investment policies, trading strategies, and best practices. Many of us returned to Ithaca with a well-rounded understanding of the industry that would have otherwise taken years to gain.
My favorite aspect of the Capital Markets and Asset Management Immersion thus far is the Practicum class, in which professionals give lectures on their roles within the market. These lectures have provided insight into the industry that no textbook can ever provide. After the first class, my friends and I looked at each other and said, "This is the stuff I came to business school to learn!" The guest speakers range from derivatives and interest rate traders to portfolio and risk managers.
The Practicum has bridged the gap between academic theory and real-life implementation and will provide the foundation for success in our summer internships. Regardless of one's chosen career path within CMAM, these lectures will surely be of benefit. In conjunction with the guest speakers, we begin our work with The Cayuga Fund and are grouped into sector coverage teams. Each student's role is assigned based on his or her desired career. For instance, Private Wealth Management students are responsible for broad market commentary and industry outlooks. Sales and Trading colleagues keep an eye on headlines, technicals, and derivatives in order to understand market sentiment and short term fluctuations. Finally, analysts are responsible for understanding the fundamental drivers of valuation within the sector. Together, the students will develop buy and sell recommendations within the portfolio.
Although we are only a month into the class, it has already exceeded all of our expectations. Many of us have been able to carry topics discussed in the Practicum into interviews, while all students leave each class more knowledgeable. Collectively, we are looking forward to the invaluable insights from tenured professionals lined up to speak throughout the semester. There is little doubt this class has, and will continue to, provide the real-world knowledge that will make us all successful in our summer internship and post-graduate careers.