Providing Answers to the Questions that Can Keep You Up at Night
by Kay Fok, MBA '12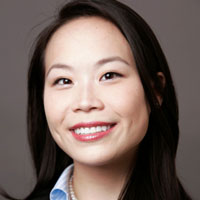 After graduating from Johnson last spring, I started working at Ocean Spray in the fall as an Associate Marketing Manager on the foods brand team. I was asked by my manager to create a deck for a presentation on a project that I was brought onto, so that we could gain alignment on the direction of the project (packaging look / feel, operational aspects, financials, etc.) from top leaders within the company.
I developed the deck using the problem-solving framework taught in Nate Peck's Management Cases & Problem Solving Process course, and emailed the completed presentation to my manager for her to review. Based on the deck alone, she wrote back and said she was impressed by how quickly I had learned about the business and how I was able to isolate and present the key factors that should drive the decision. She suggested that I present and lead the discussion in the meeting if I was comfortable doing so.
While I was a bit nervous, I presented to the group and it went smoothly. I credit this course with helping me think about the problem in an organized manner – and present my recommendations clearly and coherently in order to influence leaders within the organization.
Without this training, I wouldn't have had the opportunity to present so early in my career at a new company. This class prepared me to step confidently into my role at a new company, and rise to the occasion that was presented. I developed a very "mutually exclusive, collectively exhaustive" deck with a strong executive summary and clear next steps. I was also able to answer questions because I had anticipated what would "keep them up at night."