Aspiring Consultants Benefit from Collaborative, Rigorous Consulting Program
by Vinay Badami, MBA '13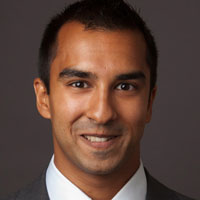 This past summer I interned with a global strategy-consulting firm out of its Boston office. I had a fantastic experience working on projects spanning the private equity, retail, and aerospace industries. Both obtaining this internship, and succeeding in leaving with a full-time offer in hand, was in large part due to the preparation received at Johnson during my first year.
Undoubtedly, the top three facets of Johnson that prepared me for the rigorous interview process and internship were the then second-year students (now alumni), the Consulting Club, and the consulting-focused coursework. I'll touch on these three areas to give you a sense of how both the students and professors contribute to a comprehensive consulting program for first-year students.
Johnson truly is a collaborative environment, especially within the Consulting Program. From the first week we arrived on campus, second-year students took the lead in helping us prepare for the recruiting and interview process, which included one-on-one practice case and behavioral interviews, corporate briefing preparation, and resume/cover letter review. This mentoring was facilitated through "Career Work Groups", which are small group settings with two designated second-year consulting students who lead you through each stage of the recruiting process.
Secondly, the Consulting Club is a wonderful resource that is also focused on getting us in front of top firms and ensuring we are thoroughly prepared for the recruitment process. The Consulting Club hosts weekly meetings keep you up-to-date on the latest recruiting deadlines, schedules job treks to visit top consulting firms, arranges office hours with industry practitioners, and answers all the questions you may have about the sometimes stressful process. Between the Career Work Groups and the Consulting Club, I really felt that my classmates were committed and working to ensure I landed at my top choice firm.
Finally, in addition to recruiting, Johnson professors do an excellent job giving you the skillsets you need to make sure you are competitively advantaged during your summer internship, and in the end, land a full-time offer. Over the summer, I was happy to find that I was consistently using pieces from each one of my b-school classes: finance, statistics, strategy, operations, and marketing, for example. Each of these courses (and others) was essential to helping me solve the challenging problems my clients faced.
For example, Nate Peck's Management Cases and Problem Solving Process class gave me a high level of comfort getting an analysis started and structured, given the ambiguous nature of a typical case. Because interns hit the ground running during the summer, there is little time to spend learning how to concisely convey your thoughts and structure analyses; it is expected that you know how to do this, and the course prepared us well in this regard.
Overall, for aspiring consultants at Johnson, you can expect a rigorous and well-rounded education that will leave you soundly prepared for your summer – and beyond.