Highlights from the Managerial Finance Immersion and My Internship in Corporate Treasury
by Faheem Desai, MBA '13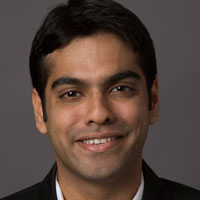 I remember when my classmates and I were encouraged to make our Immersion Program selections, about a year ago. As excited first-year students, we were exploring opportunities and career paths that fit our aspirations and interests. Some of us were looking to switch industries and roles, and we needed to build the right skill-sets to make the transition complete.
Having worked as a research analyst at an investment bank before Johnson, I was keen to pursue a leadership career in the financial services industry with a specific focus on Finance, Strategy, and General Management. Speaking to our Career Management Center's Director Steve Calk solidified my plan to take the Managerial Finance Immersion (MFI).
I think the MFI offers a very strong course structure that blends essential skills like valuations, accounting, and financial policies. These things are crucial for anyone pursuing a corporate finance career. In addition, the weekly MFI practicum provides a unique perspective on practical and real-world applications of finance theories, offering a very useful complement to the in-class learning experiences.
The spring 2012 semester-long MFI Immersion kicked off with a trek to New York City and New Jersey where we visited numerous firms spanning diversified financials, transaction services, technology, pharmaceuticals, and financial consulting. Each of our visits involved highly engaging and informative discussions with leading finance professionals. Hearing about target capital structures, acquisitions, and governance policies from the CFO of a major chemical products company was one of the highlights of the visits that I found very enlightening and inspiring.
The trek also enabled us to gain perspectives into the day-to-day work of various corporate finance roles ranging from the treasury function at a large investment bank to investor relations at a global technology conglomerate. Throughout the semester, we continued to receive valuable insights from guest speakers who were experts in different finance fields. We relished discussing the valuations and qualitative nitty-gritties of a real spin-off with the CFO of the largest consumer packaged goods company in the U.S. I also have fond memories of conducting a project valuation of a theme park with my MFI group and hearing creative ways of sourcing revenues recommended by my classmates.
Over the summer, I interned in the finance leadership program of a major financial services firm in New York City. As a part of a rotational program, my specific placement over ten weeks was in Corporate Treasury within interest rate analytics and transfer pricing. The treasury function in a bank performs the crucial function of managing the funding for assets as well as effectively pricing sources and uses of cash. It also ensures compliance with regulatory guidelines. My specific project was conducting due diligence on risk management of the long-term debt exposure of the firm. This required me to analyze how the debt was priced and understand credit fundamentals. I certainly found the MFI session on credit risk by a leading ratings agency very useful for this.
I also distinctly remember feeling glad that I went through the intermediate accounting lecture on available-for-sale securities when I was required to understand the dynamics of cash management on the bank's balance sheet. Overall, I found my summer experience challenging and impactful, and I definitely felt that the Immersion gave me an edge.