Wine, Cheese, and Heavy Manufacturing
by Ingrid Jensen, MBA '12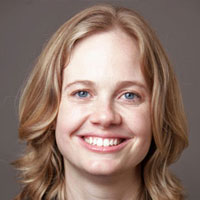 It's 11 p.m. on a Wednesday night and I'm in a hotel room in New Jersey unwinding with a nice primitivo, an array of cheeses, and a loaf of crusty, homemade whole wheat bread. Joining me are my pals Lisa Rodriguez (MBA '12), Saranya Srinivasan (MILR '11), and Becky Li (MEng '11), and we're discussing what was day one of our first overnight trip with the Semester in Strategic Operations (SSO) Immersion.
The day started at 6:45 a.m., when our bus left Sage Hall and we headed to Raymond, a company that makes five classes of forklifts. Raymond was my first encounter with heavy manufacturing. The firm has such a high degree of vertical integration that they joke they do everything "but mine the ore." We got there in time to attend Raymond's 8:15 a.m. quality control meeting in the plant's asaichi room. Raymond is owned by Toyota, and the plant is run on the famed Toyota Production System. The asaichi room is a dedicated area to the concept of kaizen, continuous improvement. At the daily meeting, plant supervisors discuss any issues that came up the previous day. The idea is to get at a problem's root cause, solve it, and make any necessary adjustments to the production process so that it doesn't happen again.
The fact that we were invited to join the meeting—and were given full access to company data, the problems the firm was troubleshooting, and to top management—is textbook SSO Immersion. The program gets you out of Ithaca and into businesses where you can speak with everyone from hourly employees to C-suite management.
And despite my silly headline, SSO is about much more than just manufacturing. Students spend equal time studying service operations, so the second day of this particular trip took us to Goldman Sachs. We spent the morning at the firm's Jersey City offices, where Goldman's operations are headquartered, and then we caught the ferry across the Hudson to visit its trading floors in Manhattan. It was fascinating to speak at length with my team's trading floor guide, who works in commodities operations. His staff members are the only ops managers at Goldman who actually sit on the trading floor, since close communication between commodities traders and commodities operations professionals is essential. After all, if you're selling oil, you need to know if your ops folks have the tankers or pipeline in place that you need to fulfill the trade. I'm still marveling at the many moving pieces Goldman Sachs operations managers have to deal with every day, not to mention the complexity of the contingency planning they need to undertake in the event of a national security incident or natural disaster.
Other visits on the three-day trip included Maines Foods, Pfizer, Renaissance Meadowlands Hotel, and Quest Diagnostics. And that was just half of us—the other half of the class had a different itinerary and went to another slate of companies, including UPS and Sikorsky Helicopter. Plus, there are several trips each semester.
For me, SSO was the perfect fit because I have a strong interest in general management, systems thinking, and how you improve processes. Another bonus of SSO is that it's not just Johnson students. Every semester graduate students from Cornell's School of Engineering and the School of Industrial and Labor Relations join the immersion. They add additional diversity to the classroom, help you expand your network outside the business school, and bring their own unique perspectives on business problems. In short, I loved SSO and consider it one of the absolute highlights of my Johnson education.