Combining Passions in Pursuit of a Dream
Combining Passions in Pursuit of a Dream
by Ana Kalugina, MBA '17, MPS '17, Environmental Finance and Impact Investing Fellow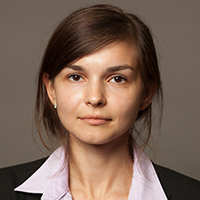 Every great journey begins with a step, and with enough of them, you can run a marathon. My hope is that the past two years will lead to an ever-fulfilling finish.
In deciding between graduate schools, Cornell was a natural choice because it offered plenty of real estate classes that would allow me to transition into a new industry. When I was deciding between various immersions, I was seriously considering the Sustainable Global Enterprise (SGE) option, especially following a conversation with a second-year student at the time who had completed a summer internship in Kenya. Her experience as the only female student working for an organization was ever more impressive in light of the Nairobi mall tragedy that happened in 2014. However, as a dual degree MBA and Master of Professional Studies in Real Estate student I was able to enroll in the SGE immersion in my second year and was an ideal fit given my particular interest in sustainable real estate. Moreover, I was accepted into the Environmental Finance and Impact Investing Fellows program which is a great bridge between my interests.
Last summer I interned with Hodes Weill & Associates, a boutique real estate advisory company in New York, NY. During this experience, I got a glimpse of the real estate fundraising business. Although my coursework proved helpful, I also got some experience that went beyond the knowledge gained in class. For example, I was able to get my hands on a number of fund models that go a step beyond the typical one-asset financial modeling that we covered in classes. In addition, I participated in the company-wide off site meeting, where I not only got to know everyone within the company, but also had a chance to listen to presentations of big-name general partners. The off-site meeting was an eye-opening experience, allowing me a glimpse of how the business is being done and the process behind choosing who to work with. Having taken coursework in both the real estate and the business programs, it was interesting to observe how the business world operates and how the various concepts I learned in the classroom environment can be applied to the real world.
Although I was excited to work in the city, I knew that I had to take every opportunity I had to network with professionals in various areas of real estate, in order to not only familiarize myself with various aspects of real estate, but also to prepare the foundation for my full-time job search yet to come. Even before the summer, I knew that I was very interested in affordable housing, its impact on communities across the United States, and the people that live in them. Networking away, I came across the National Housing Preservation (NHP) Foundation that is a nonprofit organization that seeks to address the issue of affordable housing one community at a time. After a few conversations, I am now working on a research article with NHP.
Not having any prior experience in real estate, I knew that getting "in" will be difficult at times as I'd have to start from scratch, and yet today, I am more certain than ever that three years ago I made the right decision to go back to school and get my graduate degree at Cornell. My educational experience to date is giving me a strong background that I can leverage to position myself as a good candidate for various opportunities. The Baker Program in conjunction with the MBA and the SGE Immersion have given me the skills and knowledge I need to succeed in this amazing world of real estate — an industry that I am excited to enter upon graduating.
Working in real estate was always a dream of mine and my primary motivation for going back to school. With graduation just a short distance away, I am now close to considering myself a real estate industry professional.