Megan Epler Wood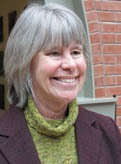 Megan Epler Wood
Managing Director, Sustainable Tourism Asset Management Program (STAMP), Center for Sustainable Global Enterprise and Principal, EplerWood International
Megan Epler Wood founded the first NGO in the world dedicated to the development of tourism as a sustainable development tool in 1990, The International Ecotourism Society. As an NGO leader, educator and consultant, Epler Wood has dedicated her professional career to the creation of professional tools, guidelines, policies and educational resources for sustainable tourism development working in over 30 countries.
She has led an international consulting practice EplerWood International since 2003 with over a dozen projects in Africa, Asia and Latin America. She has advised on national policies for sustainable tourism development; fostered small scale enterprise development in rural and biodiverse areas; improved and diversified mainstream tourism supply chains to create wealth for the bottom billion; set measurable standards and delivered tools for sustainable destination development; and is now galvanizing global strategies for the growth of sustainable economies.
Epler Wood is the author of Sustainable Tourism on a Finite Planet; Environmental, Business and Policy Solutions (2017) which highlights how technology and the growing global middle class are driving a travel revolution which is causing escalating impacts on fragile destinations.  Far-reaching recommendations are made for global institutions to lower tourism's rapidly escalating carbon impacts and protect the health and well-being of local populations, ecosystems, cultures, and monuments worldwide.
As Managing Director of STAMP, she is overseeing the management of the new grant program which seeks to increase collective knowledge and understanding of how to more effectively manage tourism destination assets over time to improve maintenance, ensure proper valuation, and help offset the influences of poverty, ecosystem degradation, climate change, land tenure, and the lack of government investment in vital local infrastructure in underdeveloped economies worldwide.