O'Shannon Burns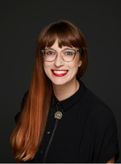 Program Manager Sustainable Tourism Asset Management Program (STAMP)
O'Shannon Burns is a researcher and sustainability consultant with 15 years of experience shaping mission-driven businesses and embedding regenerative principles into operations with a focus on travel, tourism, climate action, conservation, and environmental justice.
As Program Manager of Cornell University's Sustainable Tourism Asset Management Program at the SC Johnson College of Business, O'Shannon co-developed a framework for sustainable tourism destination management that now underpins the online, self-paced eCornell course on Sustainable Tourism Destination Management.  These innovative data-driven methods for tourism destination management include tools to design a climate action plan, document and monitor natural capital, improve land-use planning, engage with local communities, and manage public-private partnerships.
Previously, O'Shannon spent a decade at National Geographic collaborating with explorers as they conducted field work, spearheading sustainability initiatives, and operating exploratory educational travel experiences on all seven continents. While there, she created and was then appointed to National Geographic Partners' first full-time sustainability position, overseeing sustainability for the company's travel business and serving as an internal sustainability leader and expert.
O'Shannon leads Ochre, a consulting practice that collaborates with organizations to create custom sustainability strategies and build the systems and programs needed to operationalize sustainability into their work. Ochre has supported The World Bank, Disney, the National Geographic Society, Regenerative Travel, Atlas Obscura, and dozens of small businesses.  She also collaborates with EplerWood International on tourism consulting projects.  In the tourism sector, O'Shannon has worked directly with tour operators, destination management companies (DMC's), hotels, and destination marketing organizations (DMO's) to implement sustainability frameworks.  She has experience helping businesses with B Corp certification, GRI, Integrated Reporting, and navigating the complexity of certification in the travel and tourism space.
O'Shannon holds a master's degree in Sustainability from Harvard University and a bachelor of science in Physical Geography with a focus on Climate Science from the Pennsylvania State University.