Safiyyah Abdul Hamid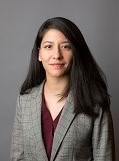 Safiyyah Abdul Hamid
Center Coordinator, Center for Sustainable Global Enterprise
Safiyyah Abdul Hamid is center coordinator for the Center for Sustainable Global Enterprise (CSGE) at Cornell University's Johnson Graduate School of Management.
In this position, Safiyyah provides administrative assistance for the center and its partners. She serves as the primary contact person for external offices and assists on special events such as the SGE Immersion, Cornell Energy Connection, and Cornell Business Impact Symposium. Safiyyah provides technical and logistical support for multiple projects, meetings, conferences, and workshop.
Prior to joining CSGE in 2018, Safiyyah worked within administration and marketing for various companies, including the government-linked agency, Malaysian Global Innovation and Creativity Centre in Kuala Lumpur, Malaysia and the startup, Golfreserv.
Safiyyah has a BSc Hons Degree in Management from the University of Manchester Business School (Alliance Manchester Business School) in UK.