Sustainable Tourism Asset Management Program (STAMP)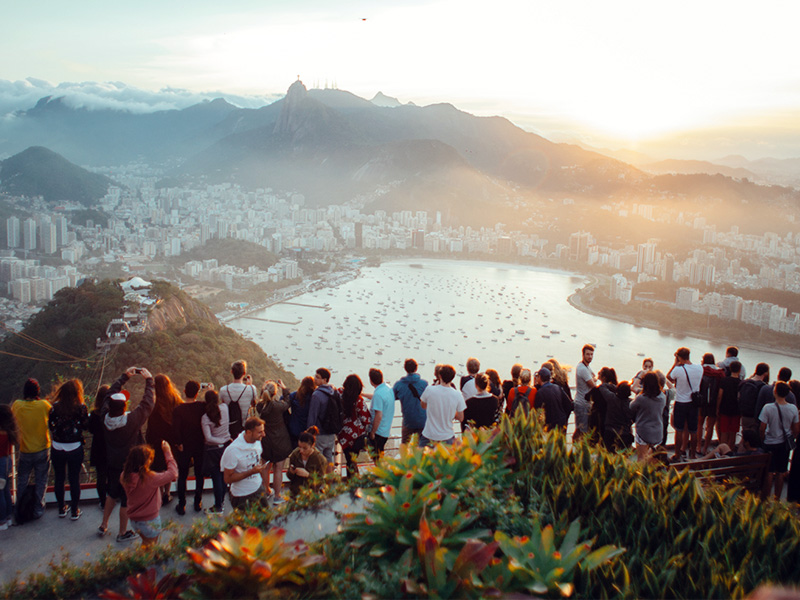 The Sustainable Tourism Asset Management Program (STAMP) supports applied research and student engagement in developing sustainable tourism models which incorporate the cost of managing vital destination assets in the development of all sectors of the tourism economy. As a program of the Center for Sustainable Global Enterprise at the Cornell SC Johnson College of Business, STAMP is developing the knowledge base to more effectively manage tourism assets in the face of endemic poverty, ecosystem degradation, climate change and public health crises.
In partnership with EplerWood International (EWI), STAMP was launched in 2017 to reach out and engage the many segments of the tourism industry which require further discussion and research and development on the wide-ranging questions of how the tourism industry can protect the environmental and social assets on which the industry depends. In 2019, with support from the Travel Foundation, EWI and the Center published Destinations at Risk: The Invisible Burden.
Destinations at Risk: The Invisible Burden of Tourism
This report describes how destinations must uncover and account for tourism's hidden costs, referred to as the "invisible burden", to protect and manage vital destination assets worldwide. Failing to do so puts ecosystems, cultural wonders, and community life at increasing risk, and places the tourism industry on a weak economic foundation that could crack under its own weight. Learn more in this animated infographic.
Amid increasing concern about "overtourism" and calls from within the travel industry for improved destination management, the report uncovers root causes for the problem and offers logical and integrated analysis of why it is transpiring. It concludes with a call to action to destination managers to sit at the new nexus between data on tourism demand and the supply of resources to support the tourism economy.
STAMP Glasgow Declaration Statement for COP 26 Climate Summit
On behalf of the Sustainable Tourism Asset Management Program (STAMP), at the Center for Sustainable Global Enterprise at the Cornell SC Johnson College of Business, I am speaking today about the importance of changing the way we educate professionals and students in the field of travel and tourism. It is becoming increasingly essential that we move beyond managing tourism demand and bring a whole new generation of management skills to the question of managing tourism's impacts on global climate and fragile tourism assets, such as water, global heritage, biodiversity and protected areas worldwide.
STAMP was created to develop long-term systems for governments and business to cooperate on the management of "tourism assets." A stable climate is an essential asset which requires cooperation across all industry sectors. STAMP's work on the Invisible Burden of tourism demonstrated that the travel and tourism sector has not measured climate emissions and will need to use science-based sustainability benchmarking in future. While individual companies may measure, cooperation at the destination level will allow for a better understanding of the full scope of emissions from a wide range of supply chains, data that can be tied to tourism planning. By understanding the cumulative impacts of tourism at the local and regional level, business and governments can better report and jointly act on lowering impacts and managing emissions.
To this end, STAMP will develop a global Sustainable Destination Management academic certificate with eCornell and partners around the world to be announced. This 40-hour virtual certificate will be accessible for professional guidance worldwide in 2022. Tools to manage climate impacts at the destination level will be presented in the certificate program, based on global sustainability benchmarking standards, allowing a next generation of carbon accounting at the destination level to begin with trained professionals.
– Megan EplerWood
---
STAMP Research Programs
STAMP has outlined a series of vital steps that are required to address the questions raised in the Destinations at Risk: The Invisible Burden of Tourism report.  Through STAMP, the Center and EplerWood International have partnered with the Pacific Asia Travel Association (PATA) and the Travel Foundation to review the skill sets required to manage the sustainable destinations of the future through two research programs:
A digital survey of opinion leaders in national and local government and business was undertaken in 11 countries by the partnership in the first quarter of 2020. The results will guide thinking on the types of education and training mechanisms that will be required to fulfill the need of managing destinations sustainably in future.
A review of the sustainable financing mechanisms available to underwrite the urgent need for sustainable infrastructure in global destinations.
Interest in supporting or getting involved in STAMP research programs should be directed to STAMP@cornell.edu.
STAMP Education Programs
STAMP is involved in developing a curriculum for an international sustainable destination certificate in partnership with the UNWTO Department of Innovation, Investments and Digital Transformation. This curriculum will provide a global audience with the means to download the required elements to begin the process of creating a strategic plan for destinations using metrics that will not only review demand but also the status of vital assets upon which tourism depends. PATA and the Travel Foundation are cooperating on the development, management, distribution and financing of this digital 10-week course work program expected for release in 2021.
STAMP Student Projects
STAMP provides distinctive, experiential learning opportunities in the travel and tourism business and destination sphere for students. Teams have worked on tourism projects in Belize, Colombia, and Palau. Additionally, independent study projects have allowed students to work with partner organizations such as Sustainable Travel International and the Tourism Area Protected Specialist Group (TAPAs).
STAMP Webinars and Digital Outreach
STAMP provides opportunities for engagement and outreach. Working with the Travel Foundation, it has hosted three regional webinars on the The Invisible Burden report for Asia Pacific, Europe and the Americas, and the Caribbean.  The webinars are designed to reach working travel and tourism professionals and have been co-sponsored by professional organizations which provide one local speaker. STAMP plans to continue to work with the Travel Foundation and other partners to develop more digital outreach mechanisms, webinars, and free short seminars in 2021.
For information about STAMP, to get involved in its research and educational programs, or to explore outreach opportunities, contact Megan Epler Wood, Managing Director of STAMP and Professor Mark Milstein, Director of the Center for Sustainable Global Enterprise at STAMP@cornell.edu.
---
"STAMP has allowed EplerWood International and the Center for Sustainable Global Enterprise to collaborate on travel and tourism business needs in the future. Our goal is to create practical, research-based tools to guide investment in maintaining the competitive value of critical destination assets- both natural and social — to assure long-term value for the industry."

Dr. Mark Milstein, Clinical Professor of Management & Director, Cornell Center for Sustainable Global Enterprise