Colombia Trek

During the Cornell spring break, EMI and Lourdes Casanova lead a group of Johnson MBA students to Colombia on a journey of discovery of with historical sites and presentations from political, business and civil society leaders. The trek is in partnership with Universidad de los Andes in Bogotá.
During the trek, Cornell students teamed up with Universidad de los Andes students participate in pro-bono consulting projects with small and medium-size companies from Colombia. Some examples of these projects are:
– Growth strategy for a small convenience store,
– Launch of a new organic project for a milk company.
– How to turnaround a retail franchise.
Trek Format
5 in-class lectures (1.5 hr each in duration) before the trek covering topics such as

Colombian economy and business
Basics on consulting projects
Presentations on the progress of the projects

The pro-bono consulting project for Colombian SMSs is done in joint groups of MBA students from Johnson and students from Universidad de los Andes.
Universidad de los Andes chooses the companies from the pool of companies they have been working with during the year.
Students start working in February with the goal to have a 'draft' presentation before they arrive in Colombia.
2019 Trek Schedule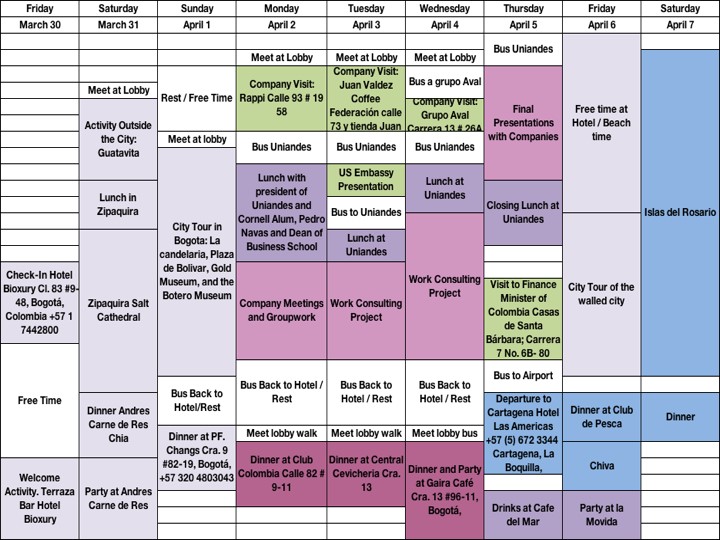 If you need an accessible version of the schedule above, are interested in participating in the trek as a student or an SME in Colombia please contact us at ContactEMI@cornell.edu with the subject line, "Colombia Trek Inquiry".