Global Business Solutions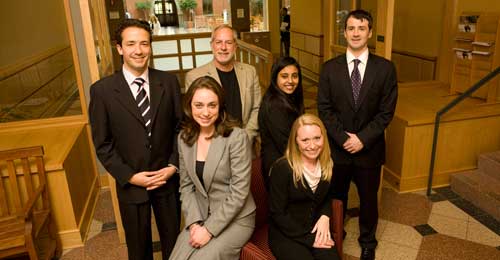 Comprehensive Consultancy Projects
Johnson Global Business Solutions (Johnson Solutions) is a unique consulting alternative for organizations seeking help with critical business issues. We provide a cost-effective way to engage Johnson's exceptional business minds on your organization's challenges or opportunities.
Since 1997, we have completed more than 500 projects for companies across the globe, including entrepreneurial startups, non-profit organizations, and many of the Fortune 500. Organizations often re-engage Johnson Solutions to work with new teams for additional assignments.
Our expertise includes but is not limited to business and strategic plans, feasibility studies, financial analyses, market research, and more.
Led by a member of our world-renowned faculty, team members work in a collaborative manner that multiples the value of their collective expertise to deliver answers to a variety of business challenges.
Benefits to Clients and Students
As a business consultancy program, we are committed to creating partnerships between Johnson and industry. We are also proud of our mutually beneficial opportunities to provide MBA candidates with real-world business challenges and organizations with talented, diverse professionals in consultative roles.
Partnering organizations gain these benefits:
Access to experienced MBA candidates who come to Johnson from across the world, bringing fresh, global perspectives to your business issues at hand.
Insight from the distinguished faculty member who advises your team and provides expertise.
Multi-disciplinary teams incorporate students and faculty from other Cornell University graduate programs to leverage University-wide expertise.
Access to our extensive global network of partnering organizations, when appropriate.
An open pipeline of talented professionals who can help build your workforce.
Our dedicated Johnson Solutions manager who oversees projects comprehensively from beginning to end.
Our Expertise:
Our consultancy serves a wide variety of partners.
Our work is not limited to U.S. market entry opportunities either. We have teams of students who focus on international engagements and will travel abroad to meet global partners and conduct research when appropriate.
Our work is rooted in deep analysis.
Johnson Solutions teams have consulted on hundreds of different projects and are committed to delivering meaningful insights and practical recommendations.
We like challenges.
Our teams of students can tackle any of the projects listed below, and many others. If you have a project need or would like to learn more, contact our Johnson Solutions manage.