Johnson Means Business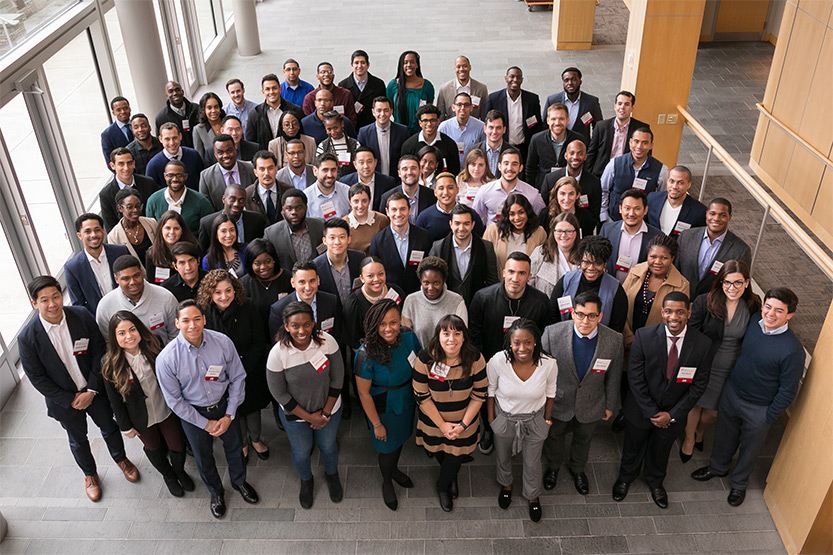 November 1-2, 2019
Johnson Means Business (JMB) is our diverse and LGBTQ student hosting event on the Cornell University campus.
During this two day experience, you'll have the opportunity to:
Learn about the Johnson MBA program, student experience, and resources to support diverse students
Gain valuable information on how to position yourself as a leading candidate for admission
Network with Johnson students, faculty, staff, and alumni
Participate in Johnson's Annual Diversity Symposium on Saturday, November 2nd
Application Process
The application is closed for this year.

JMB 2019 participants will be eligible to receive an invitation to interview throughout the application cycle along with a Johnson application fee waiver for use during the 2020 application year. Candidates applying via the Consortium will receive up to a $200 travel voucher in lieu of the Johnson application fee waiver, after they have submitted their application for this application cycle.
If you have any questions, please contact the Office of Admissions and Financial Aid at mba@johnson.cornell.edu.
Our schedule of events includes experiences designed to introduce and expose you to Johnson's diverse and dynamic academic community. In addition to attending interactive sessions on Friday, we hope that you will look forward to attending our annual Johnson Diversity Symposium and Alumni Awards Dinner alongside our current students and alumni on Saturday. For participants planning to arrive in Ithaca early, we invite you to join us Thursday afternoon for our weekly Sage Social and dinner prior to the program's official start on Friday.
Upcoming Residential Admissions Events
"As a prospective applicant, I knew Johnson would open doors for me, but JMB opened my eyes to how Johnson is not just a great name to have on my resume, but a deeply connected, welcoming, and fun community!"

Lindsay Barnes, JMB Co-Chair, MBA 2020
"Planning for JMB this year has been a truly rewarding experience. I'm proud to have our Johnson community really come together to ensure that our prospective students enjoy the various aspects of being a student here. We hope that everyone who attends JMB leaves the weekend with a good idea of what it means to be a member of this great community."

Clementina Ojie, JMB Co-Chair, MBA 2020
"JMB allowed me to see Johnson's tight-knit community in action. Whether networking with alumni, meeting with esteemed faculty, or getting wrapped up in the perennial excitement of the Marketing Association's Battle of the Brands competition, it was always clear to me that Johnson offered the high achieving and supportive culture that I wanted."

Steven Van Vechten, JMB 2017, MBA 2020
"JMB is an amazing opportunity to get a feel for Johnson and Ithaca, while meeting diverse candidates and current students in a fun and welcoming way. JMB is one of the best ways to experience Johnson as a prospective student."

Brittney Blackmon, JMB Committee, MBA 2020