Johnson Women in Business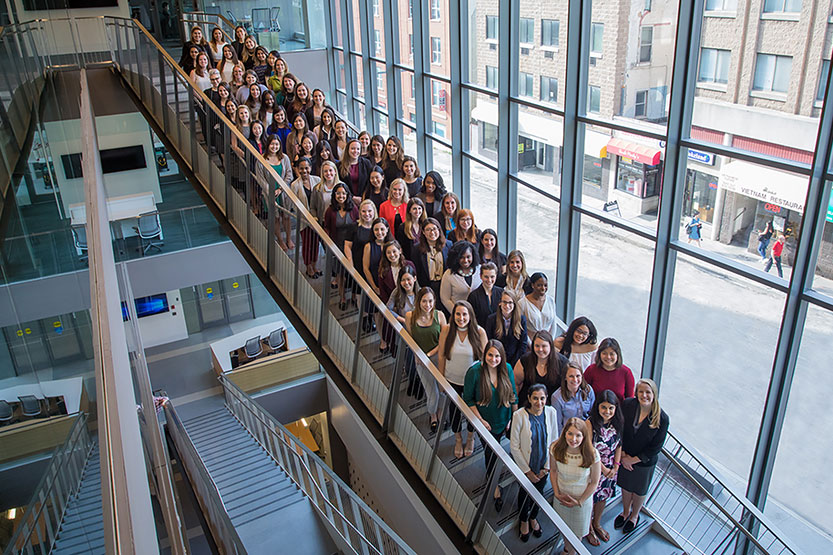 September 20-21, 2019
Johnson Women in Business (JWIB) is our female student hosting event on the Cornell University campus.
During this two day experience, you'll have the opportunity to:
Learn about the Johnson MBA program, student experience, and resources to support women
Gain valuable information on how to position yourself as a leading candidate for admission
Network with Johnson students, faculty, staff, and alumnae
Participate in Johnson's Annual Women in Business Symposium on Saturday, September 21st
Application Process
The application is closed for this year.
JWiB 2019 participants will be eligible to receive an invitation to interview throughout the application cycle along with a Johnson application fee waiver for use during the 2020 application year. Candidates applying via the Consortium will receive up to a $200 travel voucher in lieu of the Johnson application fee waiver, after they have submitted their application for this application cycle.
If you have any questions, please contact the Office of Admissions and Financial Aid at mba@johnson.cornell.edu.
Our schedule of events includes experiences designed to introduce and expose you to Johnson's diverse and dynamic academic community. In addition to attending interactive sessions on Friday, we hope that you will look forward to attending our annual Johnson Women in Business Symposium alongside our current students and alumnae on Saturday. For participants planning to arrive in Ithaca early, we invite you to join us Thursday afternoon for our weekly Sage Social and dinner prior to the program's official start on Friday.
Johnson Women in Business Highlights
Scroll through our album to preview the JWiB experience!
Upcoming Residential Admissions Events
"Choosing a school that recognizes the value of women in both MBA programs and post MBA roles was really important to me. Cornell's ongoing commitment to gender diversity and desire to champion women in business was made clear to me throughout my JWIB experience. Over 2 days I was exposed to the strength and breadth of the alumni network and community, saw the genuine support from faculty and staff and spent my time surrounded by 70 other dynamic and high achieving women, many of whom are now my classmates. I never felt pressured to choose Johnson during my visit, however I left without any question in my mind that Cornell was the right school for me."

Pia Moore, JWiB 2017, MBA 2020
"JWiB solidified my decision to put Johnson at the top of my list during my MBA application process. It offered an opportunity to see how the day to day life of a Johnson student is in a truly authentic way – we got to experience a class, attend the weekly Sage Social (happy hour) and network amongst ourselves. I was overwhelmed with how gracious the current students were with their time and information sharing and I knew it was the type of supportive culture I wanted to learn and grow in. In addition, the mock interviews set me up for success during my application process and I was able to make friends before officially beginning my MBA journey."

Katie Colton, JWiB 2017, MBA 2020
"Attending JWiB was definitely the best decision I made during my MBA application process. I went to a few similar events at various schools. JWiB is clearly the best. It was well organized and extremely comprehensive. Not only did I get a solid understanding of the amazing Johnson community, I also benefited from the interview prep session, the leading team activities and the fun Sage Social! More importantly, lots of incredible female peers I met at JWiB are now my classmates. We have been very close friends and supported each other since then."

You Fu, JWiB 2017, MBA 2020
"Without a doubt, the most impactful session was the interview prep session; I had the opportunity to get honest feedback on my "story" and that made truly feel at ease when the actual interview came around. Throughout all the sessions, I had a chance to connect with future classmates – many of whom are close friends now. Finally, I felt eager to arrive on campus to start my first year, because I knew first-hand this was a supportive community that truly welcomes and empowers female leaders."

Shawn Weger, JWiB 2016, MBA 2019
"I felt immediately welcomed by the warm, energetic community in Sage Hall, and supported by faculty who encouraged us, as a diverse group of women, to participate in challenging and thoughtful discussions throughout the weekend. The mock class, leadership development activities, and interview prep sessions not only provided valuable insight into Johnson's application process and MBA experience, but also equipped us with strategies and tools that were immediately useful in our careers. I would highly recommend JWiB for any woman considering Johnson – come experience the campus and our community! JWiB brings together an inspiring group of women making an impact at different career stages. Last year, I left feeling energized, not only by the speakers, who shared their stories with confidence and candor, but also by the warm community of Johnson attendees. We're looking forward to another great event this year – hope to see you in Breazzano!"

Sara Schmitt, JWiB 2017, AMBA 2019