Sarah Song '17, MPS '18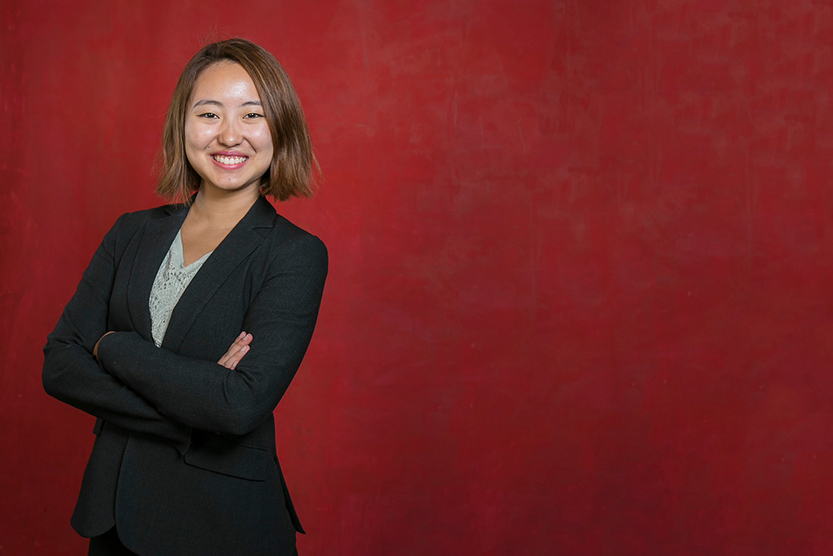 Sarah Song '17, MPS '18
Hometown: Bethesda, Maryland
Undergraduate School: Cornell University
Post-Cornell Employer: EY
Favorite Hobbies: Ballroom dance, hiking, traveling, yoga, meditation
"The professors involved with the program are not only experts in their fields, but also approachable and caring mentors who made an effort to meet us individually. I love this community."
What attracted you to the MPS–Accounting program?
Junior year of my undergraduate career at the School of Hotel Administration, getting CPA licensed became my newfound aspiration. The MPS in Management – Accounting Specialization gave me a way to actualize that aspiration. I then had the motivation to graduate a year early to pursue this program, which allowed me to keep my hospitality industry degree/knowledge as well as obtaining more education in accounting on a reasonable timeline. I am also so glad to stay on the Cornell campus for another year—Ithaca is truly "gorges."
Describe your interactions and experience with the program director, Professor Jack Little.
Professor Little changed my life. When I approached him during the critical time of choosing a career path, he empowered me and pointed me to a clear direction. He helped me gain confidence in my accounting knowledge and abilities, and did all he could to help me build connections with professionals, which ultimately landed me an internship and full-time offer from EY. From resume edits to two-hour phone calls about prospective employers, Professor Little has supported me and given me guidance ever since we met. Frankly, I would not be where I am today without him, and know that he cares deeply about every student he crosses paths with.
What are some of the benefits of being in a collaborative program with learning opportunities from all three schools in the SC Johnson College of Business?
Having obtained my undergraduate degree from the School of Hotel Administration (SHA)—a part of the SC Johnson College of Business—I genuinely appreciate the chance to still take classes from SHA and interact with SHA faculty. We also have the opportunity to take MBA classes and build connections with other students/professionals in the college of business. The MPS in Management – Accounting Specialization program is one of the first direct results of the SC Johnson College of Business collaboration; I am proud to be a part of it, and can't wait to see the program flourish as the collaboration continues.
How would you describe the MPS-Accounting community here at Cornell?
We are a cohort—we study together, listen to each other's life stories, and support each other academically and beyond. During the first month of our time together, we have shared memorable experiences together such as climbing the clock tower, going on an accelerator tour, and having a BBQ at our program director's home. Everyone contributes their knowledge and resources from their various backgrounds and helps each other excel. The professors involved with the program are not only experts in their fields, but also approachable and caring mentors who made an effort to meet us individually. I love this community.