How will you stay connected?
There are many ways for alumni to engage with Johnson.
Whether you're a recent graduate or a member of the half-century club, the Samuel Curtis Johnson Graduate School of Management provides several ways for you to stay engaged with Cornell. Explore our programming and resources for Johnson alumni.
Because business never stops, join us online
The Cornell SC Johnson College of Business invites Johnson alumni to register for these upcoming community events featuring faculty, alumni, and industry experts.
Expand your network and stay in touch
Connect with fellow alumni, join us for online or in-person events, and provide job opportunities for members of the Johnson community.
Search for alumni
Search for Cornell and Johnson alumni using the university's alumni directory, CornellConnect.
Alumni Directory
Join us for an event
Connect with Johnson online, catch up with classmates, and take advantage of regional and international programming.
View Events
Hire a student
Alumni are invited to post internships and full-time opportunities for Johnson students using the Johnson Talent System.
Post a Job
Engage with students and impact the future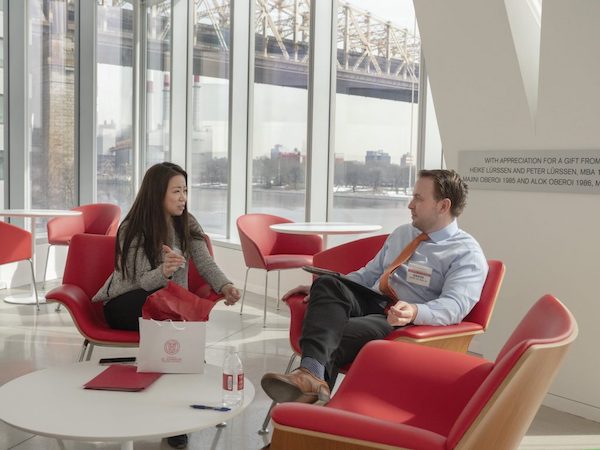 As a Johnson graduate, you understand the importance of networking, hands-on learning, and developing innovative solutions for today's business challenges. You also know that Johnson students will impact the future of business. Alumni play an important role by referring prospective Johnson students and providing project opportunities for current students.
Opportunities for lifelong learning
Develop your skills, continue learning, and stay current long after graduation. You can connect with eCornell, earn a certificate, take a course, or work with the college's executive education team to develop a custom program for your organization.
Live streams and digital content
Stay informed and entertained with online programming. You can access live stream content with your NetID and password.
Connect Online
Executive education
Continue developing professionally with executive education courses and certificates taught by expert faculty in the SC Johnson College of Business.
Learn more
Learn with eCornell
We've partnered with eCornell to offer specialized certificate programs at a discounted rate.
Visit eCornell
Resources to advance your career
Take advantage of Johnson's resources as you move forward in your career. Johnson alumni have access to career coaches, tools, and exclusive job postings on LinkedIn.
Online tools
Johnson maintains a list of websites and resources to help you search for jobs, enhance your resume, network, interview, and negotiate your salary.
Online Tools
Career coaching
Connect one-on-one with an alumni career coach for resume and cover letter critiques, assistance with interview preparation, advice on negotiation, and more.
Career Coaching
Connect on LinkedIn
Join the official Cornell Johnson LinkedIn group—a place for students, alumni, faculty, and staff to share content, post jobs, and find new opportunities.
LinkedIn
Explore digital content at Johnson
Listen to Johnson's student-run podcast, Present Value, or read news and views related to academics, student experience, faculty thought leadership, and more in our publications.
Present Value Podcast
Listen to the student-run Present Value podcast series featuring faculty across the Cornell SC Johnson College of Business.
Present Value
BusinessFeed news and views
Explore Johnson's news, features, and student voices on our official publishing platform, BusinessFeed.
BusinessFeed
Enterprise alumni magazine
Read about Johnson's faculty thought leadership and alumni accomplishments in our alumni magazine.
Enterprise
August 23, 2023
MBA students with a passion for entrepreneurship learned directly from founders, entrepreneurs, investors, and thought leaders.
June 14, 2023
Brian Balduzzi, MBA '18, built his career helping people – including LGBTQ+ couples and families – plan for business and financial transfers from one generation to the next.
June 13, 2023
Nell Cady-Kruse '83, MBA '85 helps fill the gaps in traditional financial aid and grant funding for Cornell's Afghan students and scholars .