John Kallassy, MBA '03: I-Bankers Direct
Bridging the investment gap
---
Bridging the investment gap
by Irene Kim
---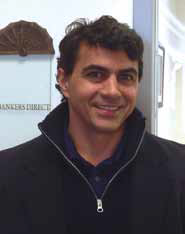 John Kallassy, MBA '03, president and founding partner,I-Bankers Direct
In March 2013, John Kallassy launched his Web-based "crowdfunding" platform, I-Bankers Direct, to mine what he saw as a rich vein: the opportunity created by the Jumpstart Our Business Startups (JOBS) Act. Signed into law by President Obama in April 2012, the act eases certain regulations on small businesses regarding disclosure and SEC registration, with the aim of helping them raise funds and grow.
Kallassy's I-Bankers Direct is a "matchmaker" between small, growth-stage companies and potential investors. "Accredited investors" (households with a net worth of more than $1 million excluding their primary residence, or annual income in excess of $300,000 or $200,000 for individual tax filers) can invest in the firm's portfolio of companies at investment thresholds as low as $5,000.
"We provide the public with access to an asset class that traditionally has been the territory of institutional investors, private equity, and investment professionals," says Kallassy, who has started several companies himself. Kallassy worked closely with classmate John Lott, MBA '03, to refine his business plan, and Lott serves as an advisor to I-Bankers Direct.
"These businesses typically are looking for investments of $1 million to $5 million, and that's a difficult amount to raise through conventional means," he adds. "It's a range that's often too high for friends and family and too low for institutional investors."
The companies are thoroughly vetted by bankers at I-Bankers Direct. Investors can read companies' business plans and documents online, watch company presentations, or meet with company management via Web conferencing. "Investors may even help the company with advice and contacts," Kallassy says, adding that he sees I-Bankers Direct becoming a powerful online investment community.