Our Ivy League network of more than 10,000 Johnson alumni — and Cornell's more than 250,000 alumni — will extend your reach far beyond our campus.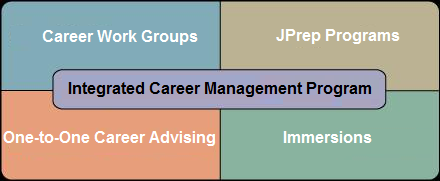 Two-Year MBA
Before you even arrive on campus, our Career Management Center staff will be in touch with you about your job search. And as you make your way through the program, you'll reap the benefits of our unique, integrated approach to career management:
Career workgroups: functionally-aligned groups led by second-year students
JPrep programs: introducing first-year students to ideas and trends in various industries
Immersions: semester-long tracks that plunge students into real-world business experiences
Advising: students assigned to one of eight professional advisers who give personalized, one-on-one career guidance
One-Year MBA
As an One-Year MBA student, you'll enjoy an integrated career management program tailored to your schedule, including:
Summer career workgroups
Conference calls with alumni — opportunities to delve into your industry
Cornell alumni networking trip to New York City
Personalized, one-on-one career advising
Cornell Executive MBA
Johnson understands today's Executive MBA student is leveraging this mid-career credential for more than just career enhancement. Whether you're seeking to shift your career, industry or company our career management program is designed to facilitate the process of achieving your career goals. Career services available to you include:
One-on-one advising conducted at your convenience by phone or in person
Programming designed to equip you with career tools or navigate your career effectively
Access to career tools and resources
Job search work teams, alumni mentors and executive coaches
Johnson Cornell Tech MBA
In this one-year MBA program, founded on a tech-focused campus, you can earn a business degree deeply influenced by the needs of the digital age. You'll learn the foundations of business in the context of the technology and innovation reshaping the competitive landscape worldwide.
Our students are trained and prepared to lead in industry for product management/development, product marketing, program management, consumer insight/analytics, and user experience strategies, consulting, general management, operations management as well as entrepreneurship.
Career Management BusinessFeed
February 18, 2020
Ashley Clark, Two-Year MBA '20 and Park Leadership Fellow, outlines three steps that helped her navigate the depth and complexity of leadership.
February 7, 2020
Hassan Ladhubhai shares insights and lessons learned from companies visited during his trek through Korea and Japan with other Johnson MBAs.
February 5, 2020
Known both for the warmth of her smile and her expertise, Ann Richards actively promoted diversity in Johnson's residential MBA programs.