Why Johnson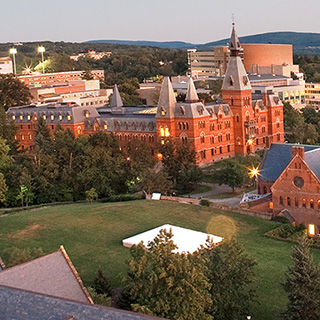 In the Heart of the Largest Ivy League University
To succeed in business, you have to know more than business.
Today's dynamic business world demands an MBA program that's equally dynamic. Organizations must increasingly address complex challenges and opportunities that require leaders who have interdisciplinary insight as well as expertise beyond the business realm.
As a Johnson student, you benefit from the wisdom and experience of our world-class faculty. You work side by side with them, and with your classmates, in our intense, collaborative community. You immerse yourself in our performance learning experience. You have access to our vast network of Cornell connections —and, perhaps most importantly, you become part of it.
Johnson teaches you how to harness the strengths of those around you, combine their strengths with your own, and create progressive and impressive high-performance solutions to business challenges — and to other challenges facing the world at large.
Explore your interests, fulfill your electives, and customize your MBA experience to fit your unique aspirations through coursework at the university's other top-ranked schools.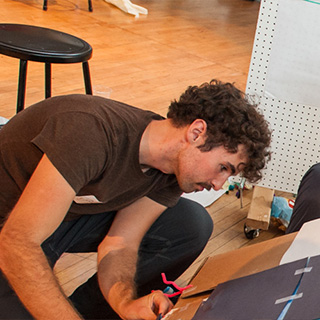 Create Great Ideas Without Boundaries
We've launched a new approach to MBA education.
Digital technology is revolutionizing the economy. It's also revolutionizing how we teach and learn about advanced, integrated business practices. That's why we've launched a groundbreaking, interdisciplinary MBA program in New York City — a global and technological hub for the digital economy.
Our exciting new Johnson Cornell Tech MBA takes the learning experience beyond the boundaries of a traditional, business-school setting and replicates the multidisciplinary culture of digital transformation by integrating it into the Cornell Tech campus. Locating a school of management within a tech campus is revolutionary and unprecedented in higher education.
At Cornell Tech, located on Roosevelt Island in NYC, you'll dive into an open, dynamic studio environment that demands collaboration. You'll tackle a startup project and an existing enterprise project, working alongside candidates in Cornell Tech's engineering and computer science programs for a uniquely integrated, cross-disciplinary experience. Spring semester includes a global trek to Israel and a career-directed project in the concentration of your choice. Throughout the program, courses are taught in intensive, multi-week modules that cover the latest challenges and opportunities for businesses with an emphasis on the transformative nature of technology.
Graduates of the Johnson Cornell Tech MBA will be business leaders who have a deep knowledge of technology, who see and understand how the digital revolution is creating new possibilities and changing existing companies, and who work effectively side-by-side with technology professionals. At the end of the year, those who choose to work on startup projects will become co-founders of software or tech companies.
Cornell Tech is serious about supporting fast-track tech startups. How serious? Enough to have its own U.S. Patent and Trademark officer in residence.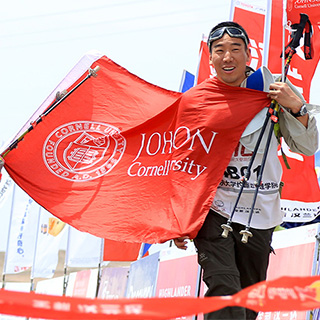 See What Global Really Means
Global isn't a buzz word. It's a fact of business.
The dynamic global economy is fundamentally changing today's approach to business. Organizations have to rethink everything about how to engage with a wide range of emerging markets, including rapidly evolving economies such as China's and India's. That's why our approach to business education — whether one of our MBA or PhD programs or our many executive education programs — prepares tomorrow's leaders for success on a global scale.
We're known for our innovative, international education initiatives. Our Center for Sustainable Global Enterprise creates opportunities for students to engage in applied research focused on the triple bottom line — consideration of the environmental, societal, and economic impacts of businesses on a global level. Our Emerging Markets Institute provides thought leadership on the roles of emerging markets in the global economy and offers students educational experiences via coursework, international study trips, practicums, and exchange programs.
The Cornell MBA experience goes beyond theory and case studies to offer students opportunities to interact with corporate leaders from around the world, to grapple with real challenges global businesses are facing today, and to develop creative, tangible solutions that address those challenges. Through international study trips, student exchanges, internships, and worldwide projects, you'll consult and collaborate with clients in a wide range of countries and industries.
Our MBA programs constantly evolve to stay ahead of global business trends. We launched the Johnson Cornell Tech MBA in 2014 — an MBA focused on leading in the digital economy. We also developed a dual-degree MBA in partnership with Beijing's Tsinghua University PBC School of Finance that will offer Cornell MBA students firsthand insights into the Chinese business ecosystem while introducing Chinese executives to Cornell's top instruction and global management concepts. Announced in 2014, the inaugural students for this program will begin in 2015.
Johnson's student body reflects the diversity of today's dynamic global economy: Nearly 30 percent of our Two-year MBA in Ithaca class of 2016 is international, hailing from more than 30 countries. That diversity guarantees that our students will hear and exchange a broad spectrum of perspectives in class discussions and in project teams.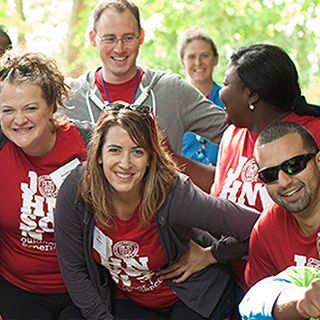 Academic Excellence and Intense Collaboration
The truth is, success is never a solo act.
We believe an MBA education must be a rich, interactive, intensely collaborative experience. It must integrate students from a variety of industries, business disciplines, and backgrounds with highly respected, experienced educators to create the ideal environment for team leadership development.
Our stellar faculty members are top scholars and thought leaders who enhance our Ivy League reputation, but their approach is down-to-earth and one-on-one. They are active, engaged, and present. They make time for in-office meetings, support student-run events, participate on teams (both business and athletic), and socialize with students. They actively share their research insights and what they mean to the world of business. Using Johnson's signature performance learning approach, they teach theoretical frameworks but then turn students loose to apply them in real-world situations.
And that's when collaboration really intensifies. On project teams and in class, you'll learn from — and teach — fellow students as you find solutions and overcome challenges. Together, you'll deliver concrete results based on what you've learned in class and in practice. You'll support and be supported, challenge and be challenged — and forge relationships that will stay with you for life.
This collaborative experience is key to the success of our innovative learning centers and institutes: the Emerging Markets Institute, the Center for Sustainable Global Enterprise and The Parker Center for Investment Research. Each advances the global research and practice of business while offering you unique and valuable learning opportunities.
Connect With Business Like Never Before
A network is good only if you can actually use it.
How well does our network work? Ask our alumni that question, and you'll get a resoundingly positive response. While all colleges and universities talk about the quality of their networks, graduates of Johnson — and Cornell in general — are well-known for their eagerness to offer helping hands to fellow alumni by providing advice, support, and even job opportunities. This cooperation and camaraderie is a natural extension of our intensely collaborative learning environment.
Johnson alumni number around 13,000; Cornell alumni around 250,000. That's a very extensive global network of valuable business connections and industry information. In fact, chances are you can find someone influential in your field just about anywhere. There are Johnson alumni clubs and Cornell alumni clubs throughout the world, as well as key business sector organizations established by Johnson alumni, such as the Cornell Entrepreneur Network, Cornell Silicon Valley, and Cornell Wall Street.
To learn more about some of the notable Johnson graduates you can connect with, check out the alumni profiles in each issue of Cornell Enterprise.