Gregory Crowley, MBA '00
Engineering his own niche
---
Engineering his own niche
by Irene Kim
---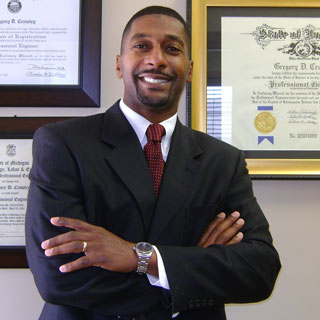 Working in a large engineering firm in the late 1990s, Gregory Crowley had a revelation. "I was surrounded by other engineers who seemed chained to their desks for the next 20-plus years, and I thought, 'Is this all there is? There's more I want to do,'" says Crowley.
Crowley, with his master's degree in mechanical engineering, was a natural for Johnson's Accelerated MBA (then called the Twelve-Month Option). Earning his MBA in 2000, Crowley caught the startup bug: "I felt there was an opportunity to get out there and start a business."
In 2003, while working as a manufacturer's representative for PPG Industries, Crowley launched Crowley Engineering Group to provide equipment and services to clients, typically facilities requiring water-treatment systems. His main competition came from manufacturers' reps who usually weren't engineers. His point of differentiation: strong engineering know-how.
Over the years, the manufacturers Crowley represented began to demand higher and higher volumes of equipment sales and clients began requiring more consulting help. In response to both trends, Crowley changed the firm's focus to a more consultative approach in 2011. No longer limited to a vertical market like water treatment, Crowley Engineering LLC now offers "third-party engineering for our clients – typically industrial, manufacturing, or municipal organizations with thin internal-engineering resources," says Crowley. "When an issue arises for which they need additional support and resources, we come in and help out."
Crowley is proud to run a minority-owned business: Of the four engineers in the firm, two are women and one is Latina. "One thing I've tried to do is provide a channel to encourage minority participation in science, technology, engineering, and math (STEM) fields," he says. Crowley himself was supported in his interest in science and engineering at an early age by his single mom. "I was the only kid in my neighborhood with a telescope. Getting a chemistry kit and a geology kit as a kid really sparked my interest to explore," says Crowley. "These young engineers working for me enjoy the work and the opportunity. And I'm happy to provide that opportunity."