Lawrence Watkins, MBA '10: Great Black Speakers
Seeking a passion pays off
---
Seeking a passion pays off
by Irene Kim
---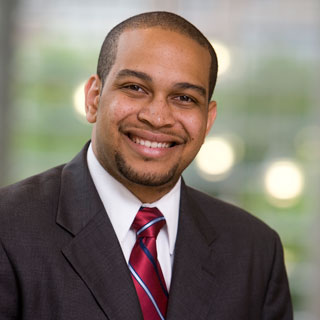 Lawrence Watkins didn't start out as an entrepreneur. Like his family, he thought he was going to be an electrical engineer. But during his junior year at the University of Louisville, he suddenly realized that although he might become a decent engineer, he would never be passionate about his work.
At about that time, his brother, Boyce Watkins, a finance professor at Syracuse University, proposed that Lawrence move to Syracuse. Lawrence would help nurture Boyce's growing career as a public speaker, finding him media outlets and educational and corporate venues. It was a big gamble, says Watkins; but, after graduating with his engineering degree, he turned down multiple offers from Fortune 500 companies and joined his brother. Reaching out to one target at a time, Watkins built up a network of contacts and gained valuable experience.
In January 2007, Watkins launched Great Black Speakers, a talent broker and agency that matches up African-American speakers with corporations and schools. Undergrad engineering had supplied Watkins with invaluable analytical skills and a tough work ethic, but little exposure to entrepreneurship, sales, and marketing. "I had to read a lot at night and test my business theories during the day when I was growing my business," he says. After making a few mistakes, such as not keeping track of his cash flows and realizing he had burned through nearly all of his capital, Watkins began his MBA at Johnson in fall 2008.
"Having GBS established when I came to school meant that I could directly apply what I learned in class to the growth of my business," says Watkins. After graduation, he returned to the business with new skills and energy. He has since launched Great Pro Speakers, a companion site that helps speakers hone their marketing skills. Like many young entrepreneurs, Watkins has learned to leverage new social-media tools to market GBS, whose network of speakers and outlets continues to grow.