Slings, Arrows, and Home for Dinner
Rick Cleary, MBA '98: COO and co-founder,
Sharpridge Capital Management, L.P.
---
Rick Cleary, MBA '98: COO and co-founder,
Sharpridge Capital Management, L.P.
by Irene Kim
---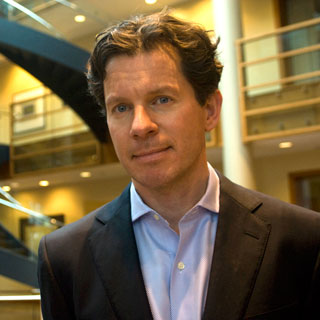 When asked about Sharpridge Capital, the investment firm he cofounded, Rick Cleary speaks not about himself, but about the strength of his rope team — the interconnected relationships that enable his firm to navigate through what he terms "the slings and arrows part of the economic cycle."
Sharpridge, the manager for Cypress Sharpridge Investments (CYS), a mortgage REIT, invests in whole-pool residential mortgage securities guaranteed by Fannie Mae, Freddie Mac, and Ginnie Mae, and generates income from the spread between interest income it receives and its borrowing costs. After a successful private equity offering in early 2006, the firm was off to the races. However, by late 2007, the deflating housing market had dramatically changed the economic and financial landscapes.
Through the storms, whose casualties included investment giants Lehman Brothers, Bear Stearns, and Merrill Lynch, CYS maintained focus on risk management, and, unlike most competitors, provided shareholders the portfolio transparency they needed. "Feedback, especially in uncertainty, is critical," says Cleary.
His faith in the rope team has paid off. Sharpridge now employs 11 professionals and manages approximately $1.8 billion in assets. Last June, CYS completed its IPO on the New York Stock Exchange. Cleary concedes that the markets aren't out of "Lewis and Clark" territory, but credits his wife, Alicia (MRP '98), and daughters, Olivia and Amelia, with his success. "We have one unbreakable rule: home for dinner."
He fondly recalls his Cornell days. "A real life-changer. I learned from the giants: Hass, O'Connor, Michaely, Lee," says Cleary, who credits Johnson's training grounds, including teaching a class with mentor Jeff Parker '65, MEng '66, MBA '70, with honing his entrepreneurial skills and focus. "It went by too quickly," says Cleary.