Going with the flow
by Irene Kim
---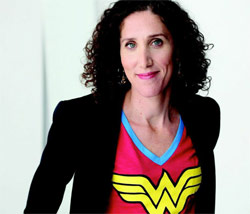 Naama Bloom, MBA '13, founder of HelloFlo The curse. The crimson tide. Lingonberry week. It's the five-day event that happens to women of childbearing age each month, sending embarrassed husbands and fathers running to the "feminine care" aisle. Helloflo.com is happy to meet women's periods head on.
"It dawned on me that I really hate buying tampons," explains HelloFlo founder Naama Bloom. Her spouse, entrepreneur David Bloom, MBA '01, encouraged her to make her vision into reality: a subscription service delivering supplies to customers a few days before each period. And so HelloFlo was born.
The website-based company offers monthly subscriptions and care packages for students, new moms, and girls experiencing their first period — including educational materials to help parents and daughters have "the" conversation. The site also features "Ask Dr. Flo," written by two doctors, and a blog.
The brand is all about poking fun at the mystique around menstruation, to do away with the shame. As an important part of the marketing approach, two videos take an insouciant look at the age-old cycle: To commemorate HelloFlo's launch, "Camp Gyno" debuted in March 2013, and "First Moon Party" was released in June 2014, with five million views in the first week. Vital product and marketing support comes from personal-care giant Procter & Gamble.
Bloom reached out to Johnson classmates for help, including an alumna who had worked at Johnson & Johnson on Carefree products, entrepreneurs in e-commerce, and an alumna with a successful mom blog.
Bloom, who worked in customer acquisition, brand strategy, and customer development at American Express for nine years, says that it can be hard to adjust to the small scale required by a startup. "When you're starting from nothing, it can be incredibly hard on your morale," she says. "You have to celebrate every single win."