New Order
by Irene Kim
---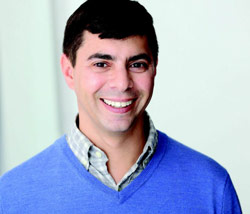 Unless you're a restaurateur or app developer, you've probably never heard of Ordr.in. This open platform for restaurant e-commerce is used by restaurants, developers, and websites to power their food-ordering capabilities.
Co-founder David Bloom describes Ordr.in as "DNA for restaurant e-commerce" — an infrastructure for building takeout-ordering services that allow college students to find the closest pizzeria or guests staying in hotels without restaurants to get room service. It is invisible to consumers. "It's a purely business-to-business infrastructure, like the multiple listing service for real-estate properties," he says. "Most people don't even understand what we do."
And that's fine with Bloom. When you serve such a fundamental need that people rely on without knowing it, you have a great business.
Bloom hatched the idea while leading restaurant-industry strategy at American Express. "Every technology was designed to connect an individual person with an individual restaurant," says Bloom, who wanted something to connect restaurants nationally while performing transactions locally.
It didn't exist, so Bloom decided to create it himself. He mentioned the idea to software developer Felix Sheng, a friend of spouse Naama Bloom, MBA '03. Sheng's reaction: "I can't believe something like that hasn't already been made. Can I do it with you?" First launched in 2010, Ordr.in received valuable support from New York City incubator TechStars and behemoth Google Ventures in 2011. The company has been growing steadily, with more than 20,000 clients to date, including Best Western, Wyndham, and Yelp.
Even so, Bloom will never forget an early boost from Johnson alumnus and entrepreneur Justin Smithline, MBA '04. "I was still working out of my kitchen when he came to talk about my idea," says Bloom. "When you have nothing and someone writes you a personal check, there is nothing more important than that that first check, and that advice."