Shelley Saxena, MBA '03
A new prescription for health-care delivery
---
A new prescription for health-care delivery
---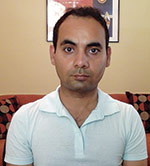 Bringing health-care services to rural patients in India for about $10 a year, Sevamob combines seva, meaning "service" in Hindi, with mobile technology. True to its name, the organization provides valuable services to patients in underserved areas, using innovative technology.
Founder Shelley Saxena, who had previously launched a smartphone-based knowledge repository for U.S. agricultural producers, wanted to replicate the model in India for health care. "The challenge was how to treat the service mix in a way that was sustainable and scalable and would allow us to reach our target audience at affordable price points," says Saxena.
The organization keeps costs low through several means. Instead of stationary clinics, Sevamob uses mobile clinics; rather than being staffed exclusively with expensive MDs, clinics employ a mix of MDs, dentists, and nurse practitioners. Instead of subscribing individuals, Sevamob signs up groups, such as schools and community centers — thus guaranteeing 100 to 500 patients per contract. Patients receive primary care, insurance, and dental and vision care, as well as diagnostic tests.
The cloud-based, tablet-accessible Sevamob technology is crucial to the organization's growth. "We use the technology to track health outcomes — what's working and what's not — and decide what to add to our model," says Saxena. Seva360, a telehealth platform added last year, allows any provider to provide video consultations to any patient and similarly track and analyze the efficacy of these activities.
Saxena credits Johnson with teaching him skills that proved essential in launching the business: entrepreneurship for preparing the business plan and securing funding; financial modeling for building the organizational model; marketing for adjusting the product mix, price points, and messages; and negotiations for dealing with suppliers and vendors. "And I really appreciate that Johnson is tracking our story and retweeting our key news!" he adds.