Startup Snapshots: Pure Energy
Cameron Brooks, MBA '03: E9 Energy Insight and Tolerable Planet Enterprises
---
Cameron Brooks, MBA '03: E9 Energy Insight and Tolerable Planet Enterprises
by Dick Anderson
---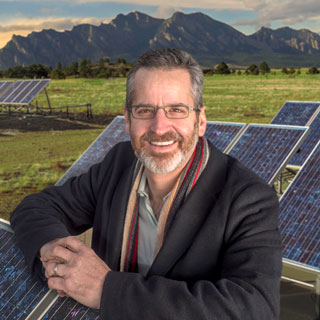 Cameron Brooks was smitten with the outdoors as a teenager, spending countless hours exploring California's Sierra Mountains. His hero was John Muir (1838-1914), the Scottish-American naturalist, author, and pioneering wilderness preservationist. "I was very interested in environmental issues," says Brooks, who has devoted his career to clean energy and environmental advocacy.
Today, Brooks is president of Tolerable Planet Enterprises, the strategic advisory firm he founded in 2003 to drive opportunities in the new energy economy. With a client list that includes technology and consumer service companies, project developers, private investors, and philanthropies, Brooks spends much of his time in front of public utility commissions talking up energy efficiency and intelligent energy management.
"Climate change is a huge motivating force for me," he says. With rooftop solar in one million homes and growing, "There could be some dramatic shifts in how we use and generate electricity. It's a rancorous debate at the policy level."
To keep abreast of active proceedings across the country that could affect the utility business, including rate design, distributed energy policy, and grid modernization, Brooks started a separate company, E9 Energy Insight, which provides clients with a monthly "radar screen" of new activity at the state level. "The energy market in the United States is very balkanized," he says. "Every state is unique in how it's structured."
As an undergraduate at Yale, Brooks created his own major akin to environmental studies. After college, he moved to Telluride, Colo., where he worked on grassroots environmental initiatives with Sheep Mountain Alliance, a watchdog group, and later Mountainfilm, an annual festival created by Patagonia founder Yvon Chouinard, while building a burgeoning energy efficiency consultancy.
"I could see that [green] technology worked, but it wasn't being picked up by the marketplace," says Brooks. At Johnson, he took a concentration on green building and energy markets, all the while growing the Sustainable Global Enterprise Club, the Cornell chapter of Net Impact. "I was the last person I thought would go to business school because that was what my mother would have wanted me to do," he notes with a laugh. Somewhere, John Muir is smiling.
Photo by Wayne Armstrong