Wendy Mishkin Mayer '92, MBA '94
Leading Innovation at Pfizer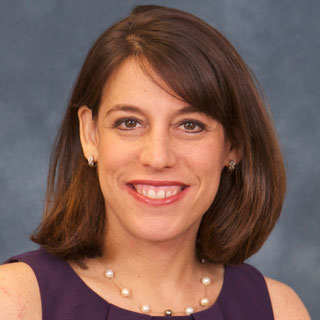 How do you encourage innovation in a global pharmaceutical corporation with nearly 80,000 employees? That was the challenge Wendy Mishkin Mayer faced when she became vice president for worldwide innovation at Pfizer two years ago.
The initiative she leads, Dare to Try, is aimed at improving the company's operations and services — taking innovation beyond the discovery and development of new drugs. At Pfizer, Mayer says that could mean anything from experimenting with new marketing strategies to optimizing clinical trials.
"We recognize that we can't keep doing things the way we've done them in the past, because markets change very quickly, and things change internally as well," Mayer says. "We need to keep pace with our customer expectations and the new technology around us."
A major focus of the initiative is encouraging employees to experiment with new ideas. An example of this approach, Mayer says, was a campaign to try to raise physician awareness of a new vaccine Pfizer had developed to prevent pneumococcal pneumonia in adults over 50. To help physicians understand the value of the vaccine, Pfizer offersd vaccinations to the physicians themselves at medical conferences in Spain
"It was very successful, and now they're looking to space it up elsewhere in Europe," Mayer says. "This is what our approach is — we start small and scale up fast."
Another strategy is launching an "open innovation capability" that will enable the company to regularly tap into outside networks that could offer solutions to business problems. Mayer says the company has already been meeting with administrators at Cornell NYC Tech to invite the graduate students to apply their skills to business challenges at Pfizer.
Mayer understands what it means to take risks; she did just that when she left market analytics after 13 years to try two new projects in 2011; developing a quality management system for clinical trials, and managing Pfizer's primary care business for the state of Connecticut.
Working in those positions gave her the confidence to take on other challenges and strengthened her candidacy for managing innovation across Pfizer. "I had to prove to myself that I wasn't good at only one thing," says Mayer, who lives in Rye Brook, N.Y. "If I had aspirations to do more, I had to believe that I had the capability to do it."