Empowering Women, One Video View at a Time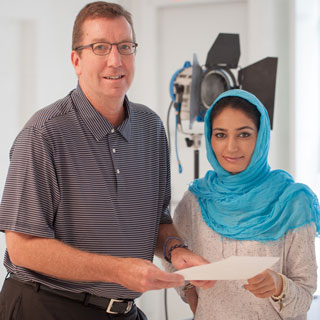 For the past two years, Mike Sweeney, managing partner of Film Annex Capital Partners, has been deeply involved in promoting WomensAnnex.com — an interactive web platform that supports the empowerment of women in developing countries. The idea for the platform, Sweeney says, grew out of a conversation Film Annex's founder Francesco Rulli had with Roya Mahboob, a young female technology entrepreneur busy setting up U.S.-funded Internet services for Afghan universities. After Mahboob expressed her desire to create Internet classrooms at the high school level in Afghanistan, Film Annex helped fund the development of ten Internet classrooms and two Women's Annex studios, equipped with digital video cameras and editing equipment that in total serve 40,000 students in Afghanistan. Shortly after, a unique place under the Film Annex umbrella was created for sharing that content — as well as content created by and for women in countries around the world.
Sweeney says the business model for WomensAnnex.com is a "unique mix of sustainable philanthropy and business." Counting on better content to drive more traffic in years to come, Film Annex is investing $3 million annually to help populate the site with meaningful and attractive niche content. Proceeds are shared with content makers based on what's called their Buzz Score, an algorithm that factors in quality, frequency, and influence. Some five thousand women from Afghanistan contribute content to the platform, says Sweeney. While for many the payouts are relatively small, the top ten to twenty earn up to $6,000 to $9,000 per year in a country where the average income is less than $1,000. This enables the women to "have a really significant influence in their community."
Sweeney's primary role in the company is attracting publicity and seeking out partnerships. But he also serves as executive producer of the Women's Annex's highest-profile program: Hedgers, Bankers, and Thinkers, a recurring series recorded at the Film Annex studios in Manhattan in which host Fereshteh Forough ("the Katie Couric of Afghanistan," he calls her) interviews Wall Street hedge fund managers, bankers, and other "thought leaders" in the New York City financial community about their philanthropic efforts.
As Sweeney and the rest of the Women's Annex team look toward the future, they continue to think big: Over the next few years, they hope to provide Internet access to more than three million people in Central Asia and the Middle East. "What we want," Sweeney says, "is to be the dominant platform for women and children to tell their stories in a way that can be heard all over the world."