Greenhouse Growing in China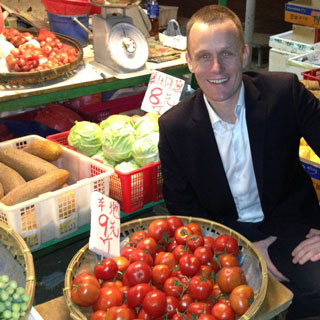 China has 22 percent of the world's population but only about eight percent of its arable agricultural land. How to generate enough food to supply the world's largest country is a dilemma for which Auke G. Cnossen claims to have a solution: investing in companies that intensify agricultural production.
As the chief financial officer of Le Gaga Holdings Limited, based in Hong Kong, Cnossen has helped lead one of the largest greenhouse vegetable companies in the world. With 1,768 acres of greenhouses (which allow food to be grown in winter) in southern China, the company produces 275 million pounds of vegetables each year, primarily peppers and tomatoes grown in all shapes and sizes.
The company's vegetables are distributed to wholesalers and supermarkets in China and Hong Kong, where a food shortage persists. "It's so extremely fragmented – there are millions and millions of small farms," Cnossen explains. "These are small farmers who don't own their land. It's owned by the community. And they have very little technological know-how." Serving a market of more than 1.3 billion people, Le Gaga has doubled its greenhouse capacity since the company was listed on the NASDAQ in October 2010, three months after Cnossen was hired. The IPO raised $78 million, which was invested in greenhouse expansion and has fueled an annual growth rate of 20 percent.
Raised on a dairy farm in Holland, Cnossen arrived in Hong Kong in 2006 as head of food and agribusiness research for Rabobank International, a Dutch company. While working from Hong Kong makes it easier to travel to Le Gaga's greenhouses, Cnossen finds that living in one of the world's most densely populated areas doesn't allow him to pursue his favorite hobbies – flying planes and biking through the countryside.
Instead, he still runs marathons and enjoys making his own beer, which he learned from a class he took at Cornell. "I'm an outdoors person," he says. "I like to do sports, and that's difficult here. But work-wise, I really enjoy it because there's so much opportunity."