The Right Person for the Right Job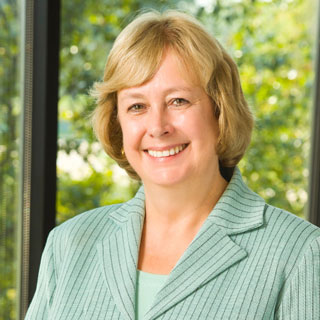 Ann Killian has always preferred working on the "people side" of business, which is what led her on a 30-year-career path in corporate human resources.
It was her first job after college — as the development coordinator at Artpark in Lewiston, N.Y. — that impressed Killian with the value employees bring to an organization. As one of 10 full-time staff members at the state park showcasing professional ballet, dance, and opera, she watched as the workforce ballooned to nearly 200 in the summer with ticket sellers, parking attendants, tour guides, set builders, performers, and artists. "It got me interested in the challenge of having to hire and train people quickly, and make sure that everyone was working together effectively so visitors to the theater and park would have a positive experience," she says.
After leaving Artpark to earn her MBA, Killian landed a position with TRW Inc., a global technology and manufacturing company headquartered in Cleveland, where she worked for many years. When TRW was sold to Northrop Grumman in 2002, she became vice president of human resources for W.W. Holdings, LLC. Since 2005, she has been vice president of human resources for Ohio-based Ferro Corp., playing an integral role in a major restructuring of the global producer of performance materials that involved a reduction in the number of manufacturing plants and employees.
Killian has recruited numerous C-level executives, including chief financial officer, chief information officer, and general counsel. When selecting senior leaders, she looks for candidates who have a global perspective, who can set a clear course, and who are capable of taking risks. "In a quickly evolving business environment, you always have to look ahead and determine what needs to be done to realize the business strategy," she says. "You have to make sure that the people you bring in have the skills and leadership capabilities to do that."
Killian serves on the boards of the Cleveland Leadership Center and the Hunger Network of Greater Cleveland. She likes to hike the trails in nearby Cuyahoga Valley National Park, and last summer she visited Glacier National Park in Montana with her husband and their twins, both college seniors. "Although I travel a lot for work and like big cities, I do enjoy getting out to places like the national parks when I'm on vacation," she says. "I love the serenity and beautiful scenery."