Refocusing on climate change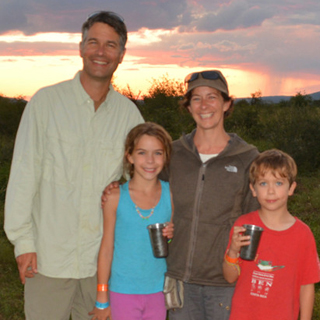 A year and a half ago, Larry Kraft was senior vice president of sales and marketing at Digi International, a technology company in Minneapolis. But after circling the globe on an environmental quest with his wife and two children, Kraft decided to leave the corporate world and now leads an organization that empowers youth to fight climate change.
The new direction in his career evolved from the questions Kraft began asking when he and his wife, Lauri, became parents. "Having kids, you start to think, 'What are my kids going to do when they grow up?' And you start planning their education," he says. "But when you do, you have to take a step back and say, 'What kind of world will they live in?'"
Over the next few years, his growing concern about the climate crisis led Kraft to reach a tipping point in his career and decide to dedicate his energy to fighting global warming. First, though, Kraft and his wife decided to do something they had always wanted to do: travel around the world with their children — who were then 6 and 8 — and show them firsthand the environmental challenges threatening the global ecosystem. During their yearlong journey, they also shared weekly blogs (see krafttrip.blogspot.com) with The Wilderness Classroom, an environmental education nonprofit followed by an estimated 85,000 young people.
Their first stop was Costa Rica, where they saw how funds raised by kids around the world had created the country's largest rainforest preserve. In Vietnam, they met educators from an organization trying to reduce demand for endangered animals that are illegally poached. And in Norway, they saw glaciers that are retreating because of rising global temperatures.
After completing their trek across 17 countries in August, Kraft became executive director of iMatter: Kids vs. Global Warming, an organization based outside Santa Barbara, Calif. Working remotely from his home in St. Louis Park, Minn., Kraft is now planning activities for kids and strategies for them to demand political action on climate change. "I think everyone has a love of kids or is connected with kids," he says, "and I think that's the way to connect with people on climate change, regardless of their politics."